Add Comment |
Related Links |
TrackBack

Related Content
Improvising a Clutch Alignment Tool
I had recently bought a new clutch kit for my 2001 Subaru Impreza 2.5 RS. The car has over 105K miles and it's ready for a new set. This kit came with new everything: new clutch, new pressure plate, new flywheel, new pilot bearing, and new throw out bearing. Last night, everything's ready to go. Sasha, my co-worker, and I had just bolted the flywheel. That's when we realized that the alignment tool that came with the kit is not the right alignment tool. Looking closer, we found "Acura" stamped on it and it is about 4mm to big for the pilot bearing.
Neither of us was willing to eyeball it. And both of us were too impatient to wait for a new tool to arrive. So I pulled out a bunch of tool sets: drill, Dremel, hot knife, and vise. Sasha down on the floor with tools scattered around him like a 3 years old. But fifteen minutes later, we had drawn up an idea that helped us move forward.
We installed a screw thread bit on the drill, clamped the drill onto the vise, and screwed the clutch alignment tool to the screw thread bit. Then loosely holding the other side of the tool with a gloved hand, we spun it at high speed. Using the hot knife, we shaved the Acura clutch alignment tool until it fit the Subaru pilot bearing. Using this new tool, we easily aligned the clutch.
Attached Image: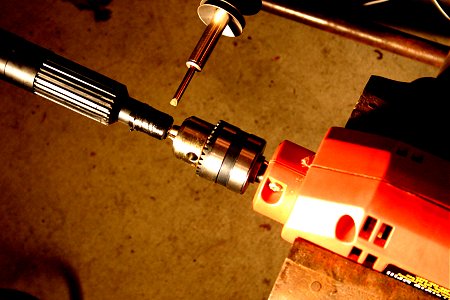 Shaving Down the Clutch Alignment Tool.jpg
Chieh Cheng
Thu, 01 Feb 2007 21:06:50 -0800
Add Comment |
Related Links |
TrackBack

Related Content
Did your message disappear? Read the Forums FAQ.
Spam Control | * indicates required field
TrackBack only accepted from WebSite-X Suite web sites. Do not submit TrackBacks from other sites.
Send Ping | TrackBack URL | Spam Control
No TrackBacks yet. TrackBack can be used to link this thread to your weblog, or link your weblog to this thread. In addition, TrackBack can be used as a form of remote commenting. Rather than posting the comment directly on this thread, you can posts it on your own weblog. Then have your weblog sends a TrackBack ping to the TrackBack URL, so that your post would show up here.
Messages, files, and images copyright by respective owners.