Add Comment |
Related Links |
TrackBack

Related Content
Poor Man's Creeper
I love working on my car. And I don't mind working on my back underneath the car. But I hate laying on bare cement floor. When I lay down on its cold hard surface, I feel like someone's missing a soul. It's rough, sandy surface wears away my t-shirt quickly.
Auto parts stores sells creepers for vehicles. These creepers have four wheels so that you can push yourself around under the car. They even have low profile ones for vehicles with low clearance. I just never bought one of these, because they will take up room in my garage. Plus, my car's clearance is too low for it to be useful.
I deal with it by using an old windshield sun block (see photo below). The sun shield has a smooth surface so that I can easily slide my body around. It is also thin, so low clearance isn't a big deal. It has a reflective silver surface that lets me redirect light underneath the vehicle.
Attached Image: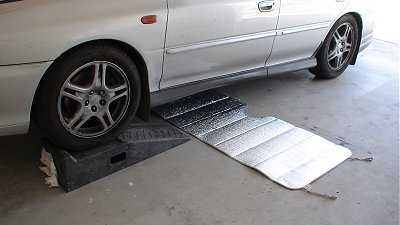 Sun Shield as a Creeper.JPG
Chieh Cheng
Sun, 17 Dec 2006 13:52:04 -0800
The sun shield is also useful for moving parts from underneath the car. In the photograph below, I used the sun shield to move the catalytic converter and the header out from underneath the car.

Attached Image: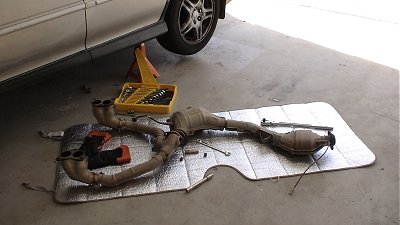 Moving the Catalytic Converter and the Header.JPG
Chieh Cheng
Sun, 17 Dec 2006 14:26:09 -0800
Sun Shield?
That's much too expensive to put on the ground.
I just use a large piece of cardboard.
real poor man
Fri, 05 Apr 2013 14:25:45 +0400
Add Comment |
Related Links |
TrackBack

Related Content
Did your message disappear? Read the Forums FAQ.
Spam Control | * indicates required field
TrackBack only accepted from WebSite-X Suite web sites. Do not submit TrackBacks from other sites.
Send Ping | TrackBack URL | Spam Control
No TrackBacks yet. TrackBack can be used to link this thread to your weblog, or link your weblog to this thread. In addition, TrackBack can be used as a form of remote commenting. Rather than posting the comment directly on this thread, you can posts it on your own weblog. Then have your weblog sends a TrackBack ping to the TrackBack URL, so that your post would show up here.
Messages, files, and images copyright by respective owners.