Add Comment |
Related Links |
TrackBack

Related Content
Magic Duels: Don't Save Your Gold Coins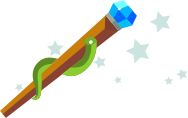 For the first time, Magic the Gathering is completely free to play! You simply download Magic Duels on Steam for free and it will immediately the Starter Set, which include 93 cards. As you play, you gain gold coins, which you can use to purchase booster packs. Each booster pack costs 150 gold coins. The screen shot below shows how much booster packs costs in bulk. But if you divide the costs with the number of booster packs, you'll see that no matter how many booster packs you buy at any one time, the cost of each booster pack is 150 gold coins.
So there is no reason at all to save up your gold coins. As soon as you have 150 gold coins, immediately purchase a booster pack and use the six cards in the booster pack to upgrade your decks.
Fido
Wed, 16 Mar 2016 13:12:21 +0300
Add Comment |
Related Links |
TrackBack

Related Content
Did your message disappear? Read the Forums FAQ.
TrackBack only accepted from WebSite-X Suite web sites. Do not submit TrackBacks from other sites.
Send Ping | TrackBack URL | Spam Control
Title: Magic Duels: Methods to Acquire Gold Coins
Weblog: GearHack
Excerpt: To buy Magic the Gathering booster packs in Magic Duels, you have to acquire gold coins. Each booster pack costs 150 gold coins. In this article, I will explain all the different ways you can acquire gold coins. Play the Story Campaign Magic Duels provide a single player story campaign. In story mod . . .
Tracked: Wed, 16 Mar 2016 13:43:10 +0300
Spam Control | * indicates required field
Messages, files, and images copyright by respective owners.