Add Comment |
Related Links |
TrackBack

Related Content
Modifying the BTC 6100C Keyboard to Swap the Insert and the Delete Keys
The BTC 6100C multimedia keyboard has a very small footprint that doesn't take up much desk space. And I got it quite inexpensively at the local Fry's. I use it all the time with my desktop computer. The layout on the keyboard is perfect, except for the Insert and the Delete key. For some reason, BTC swapped the two keys relative to the norm. It has troubled me for a long time, so I am going to swap them.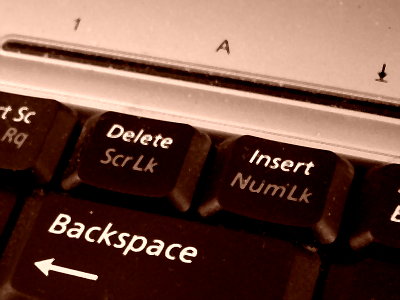 But before I swap them physically, I need a way to swap them in Windows, which is the operating system I run on my desktop. That is where this Insert Delete Swapper program comes into play. Insert Delete Swapper is a small Windows utility that swaps the Insert and the Delete keys on your keyboard. And it's free. I can put this utility in my Startup folder and have it start up every time I start Windows.
Now that I have the software working for me, it's time to modify the hardware. Simply pop-off the two keys. It's easies to pop them off from the bottom. Then snap them off from the top.
Chieh Cheng
Sun, 20 Jul 2008 21:17:43 +0000
After you popped them off, you can snap them back onto the keyboard. Just swap their positions. When you have the key aligned right above the key mechanism, firmly press down on the key until it snaps into place. Then you are all done. And the Insert/Delete keys will be swapped as shown in the photo below.
Chieh Cheng
Sun, 20 Jul 2008 21:21:25 +0000
I want to swap the Delete and the Pause/Break key. Can you help with that?
Thanks!
rich
Thu, 20 Aug 2009 22:06:40 +0000
Maybe. I'll have to give it a try. Will let you know. By the way, I'll most likely move these messages regarding Delete/Pause swap to a different thread.
Chieh Cheng
Sat, 22 Aug 2009 10:21:21 +0000
Ok, I have written the software to swap the Delete and Pause key. I've attached it below. Give it a try and let me know if it works.
Chieh Cheng
Wed, 26 Aug 2009 07:17:36 +0000
It works! Awesome. Thanks much Chieh!
rich
Wed, 26 Aug 2009 18:06:05 +0000
Add Comment |
Related Links |
TrackBack

Related Content
Did your message disappear? Read the Forums FAQ.
Spam Control | * indicates required field
TrackBack only accepted from WebSite-X Suite web sites. Do not submit TrackBacks from other sites.
Send Ping | TrackBack URL | Spam Control
No TrackBacks yet. TrackBack can be used to link this thread to your weblog, or link your weblog to this thread. In addition, TrackBack can be used as a form of remote commenting. Rather than posting the comment directly on this thread, you can posts it on your own weblog. Then have your weblog sends a TrackBack ping to the TrackBack URL, so that your post would show up here.
Messages, files, and images copyright by respective owners.