Add Comment |
Related Links |
TrackBack

Related Content
Learn another language with Google Toolbar while you surf
Google Toolbar has some interesting features, such as web site PageRank, spell checker, search keyword highlighting, etc. But one really useful feature I found today is its WordTranslator. Because it by default disabled, I didn't know it existed. WordTranslator will translate any English word on any web page to another language. All you have to do is point your mouse at the English word that you would like to translate, and a tooltip will pop up to show you the translation. I found that learning could be fun and easy while you surf.
To enable WordTranslation, click on "Options" on the Google Toolbar. You will be presented with the "Google Toolbar Options" dialog box. WordTranslator is disabled by default. Enable the WordTranslator by marking the checkbox to the left (see picture below).
Chieh Cheng
Tue, 28 Mar 2006 10:42:23 -0800
The "Translator Settings..." button will be enabled as well. Click on this button. The "WordTranslator Settings" dialog box will show up (see below). It asks which language you would like the English words to translate to. You can choose between Simplified Chinese, Traditional Chinese, Japanese, Korean, French, Italian, German, and Spanish. I left it on Spanish, because it was a language I picked up in high school and had forgotten. But sometimes, I want to change it to Traditional Chinese, because I'm starting to get that too. ;-)
Attached Image: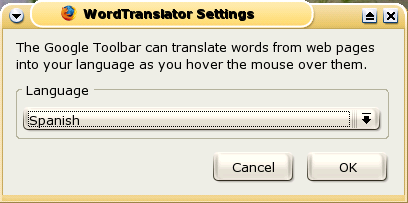 WordTranslator Settings.png
Chieh Cheng
Tue, 28 Mar 2006 10:44:02 -0800
Add Comment |
Related Links |
TrackBack

Related Content
Did your message disappear? Read the Forums FAQ.
Spam Control | * indicates required field
TrackBack only accepted from WebSite-X Suite web sites. Do not submit TrackBacks from other sites.
Send Ping | TrackBack URL | Spam Control
No TrackBacks yet. TrackBack can be used to link this thread to your weblog, or link your weblog to this thread. In addition, TrackBack can be used as a form of remote commenting. Rather than posting the comment directly on this thread, you can posts it on your own weblog. Then have your weblog sends a TrackBack ping to the TrackBack URL, so that your post would show up here.
Messages, files, and images copyright by respective owners.