Add Comment |
Related Links |
TrackBack

Related Content
The Quickest, Easiest, and Cheapest Way to Make Your Networked Macintosh Wireless
Having recently acquired an Apple Macintosh PowerBook 1400cs from Paul, I've decided to integrate it into my home computer farm. All my computers are hooked to the Internet via either a wired or wireless network. This 1400cs is actually a beefed up version. Its got a upgraded CPU, maxed out RAM, and a Farallon Ethernet card. The problem is that I don't have any more room by my wired network hub. And I have decided not to run network wires in my home.
After looking around the net for a while, I realized that getting the PowerBook 1400-series notebook on the wireless network is a popular, but difficult to solve problem. Reasons:
No USB ports. No chance of any USB wireless adapters will work on this notebook computer.
The PCMCIA slots are 16-bit PC Card slots. All of the wireless PCMCIA cards are 32-bit CardBus. They won't work on this computer. Out of the few 16-bit PC Card adapters, there are only a few that works with the Mac.
All of the network solutions for the PowerBook 1400-series are expensive. (Luckily, Paul had already installed a network card on this 1400cs.)
So what to do? What to do?
After sleeping on it for a few weeks, a deal on the Linksys Wireless-B Game Adapter WGA11B hit me straight on. I've always said when I get a network adapter for my PlayStation 2, I'd get one of these adapters. These adapters provides 802.11b network capability to any wired ethernet devices. How perfect?
I quickly bought two of them. They arrived today. And after hooking it up to power, the PowerBook, and setting the channel to "In", the 1400cs immediately got on the Internet. (I had already set-up its wired ethernet port earlier.)
That was easier than I thought. I thought I had to boot up my PC's and change some settings on the WGA11B . . . because I had configured my network a little differently than others. But nope. Just push the big blue button until the channel says "In" and it's done!
So as you can expect, I'm typing this article on the Apple Macintosh PowerBook 1400cs.
Attached Image: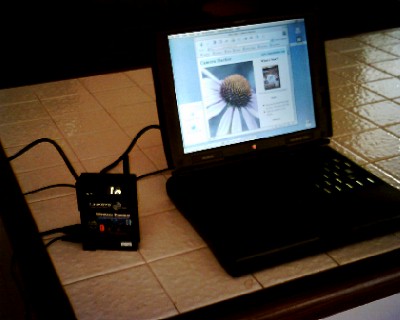 WGA11B and 1400cs.JPG
Chieh Cheng
Sat, 23 Sep 2006 20:25:43 -0700
Wow...dude...that's amazing.
I'm really glad you got it to work. Now I WANT it back!
Haha. And you took a very good picture of it.
I hope it found a better home with you.
I think you've found a solutions thousands if not millions of 1400 'bookers will find useful.
Now, I WANT it back!
Just kidding...no, really....j/k...no...j...
Lord Sarcast
Sun, 24 Sep 2006 06:58:08 -0700
The WBA11B comes with these two wedges . . . I have no idea what they are for. They don't seem to attach to anywhere on the WBA11B itself. They are shown in the photo below. Let me know what they are for.
Attached Image: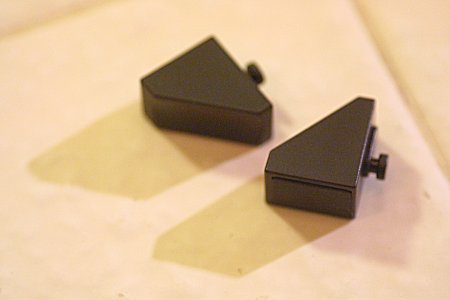 CRW_2157.jpg
Chieh Cheng
Mon, 02 Oct 2006 20:29:43 -0700
Add Comment |
Related Links |
TrackBack

Related Content
Did your message disappear? Read the Forums FAQ.
Spam Control | * indicates required field
TrackBack only accepted from WebSite-X Suite web sites. Do not submit TrackBacks from other sites.
Send Ping | TrackBack URL | Spam Control
No TrackBacks yet. TrackBack can be used to link this thread to your weblog, or link your weblog to this thread. In addition, TrackBack can be used as a form of remote commenting. Rather than posting the comment directly on this thread, you can posts it on your own weblog. Then have your weblog sends a TrackBack ping to the TrackBack URL, so that your post would show up here.
Messages, files, and images copyright by respective owners.