Add Comment |
Related Links |
TrackBack

Related Content
Hiding the Michael Graves Wireless Optical Mouse Receiver
I have a Michael Graves Wireless Optical Mouse. The mouse is well designed and made. I've had it for about a month now and the two double-A batteries that came with the mouse is till working strong; I use my notebook computer everyday. The mouse is slightly bigger than the ones that I have used before, but it contours to my hand so it's ok. It's UFO shape also makes it stand out from the other mice I had in the past.
The only strange thing about this design is that the mouse receiver is huge. It's a puck-shaped device with an ultra long USB cable. I have no idea why anyone would want a wireless receiver that big and a USB wire that long; it is a "wireless" mouse after all.
I have been trying to keep my desk clean and free of clutter. The only thing I wanted on the desk is my notebook computer and the wireless mouse. I want an environment that resembles the picture below.
Attached Image: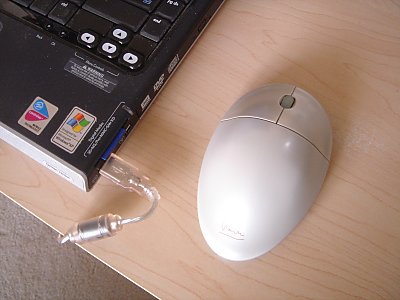 Clean Environment.jpg
Chieh Cheng
Sat, 5 Nov 2005 16:16:58 -0800
My notebook computer also has a USB port on the front right side of the computer. I usually don't use that port because the USB wires get in the way of the mouse. But for this project, I had a great idea of taking advantage of this port. I could tape the wireless receiver to the bottom of the desk, wrap the USB cable around the front of the desk, and take advantage of this unused spare USB port.
The tape of choice is double-sided automotive tape. It's cheap, I got plenty of it from my car projects, and strong. It's also easy to clean up and remove when the time comes. These tape are available at automotive shops like Pep Boys, AutoZone, Kragen, and etc.
Attached Image: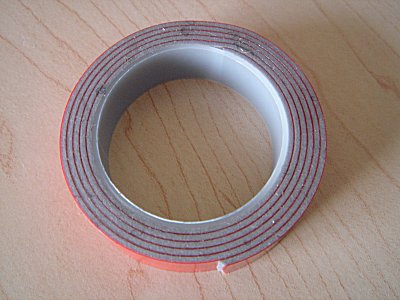 Double-Sided Automotive Tape.jpg
Chieh Cheng
Sun, 6 Nov 2005 12:54:33 -0800
I applied the double-sided tape to the bottom side of the "puck" and to the wire coil. Then I taped them to the bottom-side of the desk. Luckily the mouse and receiver is to still work with the receiver upside-down.
Attached Image: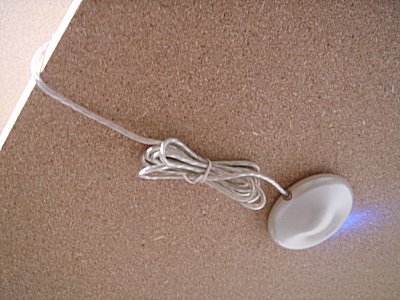 Receiver Taped to the Bottom of the Desk.jpg
Chieh Cheng
Wed, 16 Nov 2005 23:18:50 -0800
Add Comment |
Related Links |
TrackBack

Related Content
Did your message disappear? Read the Forums FAQ.
Spam Control | * indicates required field
TrackBack only accepted from WebSite-X Suite web sites. Do not submit TrackBacks from other sites.
Send Ping | TrackBack URL | Spam Control
No TrackBacks yet. TrackBack can be used to link this thread to your weblog, or link your weblog to this thread. In addition, TrackBack can be used as a form of remote commenting. Rather than posting the comment directly on this thread, you can posts it on your own weblog. Then have your weblog sends a TrackBack ping to the TrackBack URL, so that your post would show up here.
Messages, files, and images copyright by respective owners.