Add Comment |

Related Links |

TrackBack


Related Content
Make a PCMCIA Slot Memory Card Carrier
I now switch among several notebooks for work, travel, and home. Having all of my data on one notebook is no longer an option. And as flash memory gets bigger and bigger in smaller packages, my ability to carry all my data with me becomes more convenient. I still like to use flash memory cards, such as SD Cards over flash drive. For one, they are smaller than flash drives. Second, I have a lot of them because I have cameras and PDA's that use them. Third, my notebooks have built-in memory card readers. Fourth, having a flash drive sticking out of an USB port while the laptop is not stable on a desk is just asking for trouble.
Anyway, I wanted to carry several SD Cards with my notebook, without losing track of them. After all, they contain precious data. Having several cards means I can't just leave the card in the built-in memory card reader. So I thought maybe I can turn the PCMCIA slot protectors that I have into a memory card carrier tray.
I have quite a few of these protectors from my collection of old laptops, PDA's, handheld PC's, and other electronic devices. I even have CompactFlash, SD Card, and miniSD Card slot protectors (see photo below). I have never thought of a good use for these cards. Now they will serve a noble purpose.
Attached Image: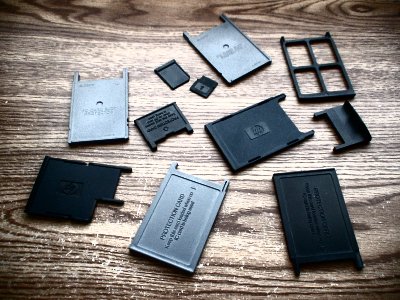 Slot Protectors.JPG
Chieh Cheng
Sun, 31 Dec 2006 05:18:36 -0800
First, I tried it with a solid PC Card (PCMCIA) slot protector. The SD Card is just slightly too tall for it (see photo below). It won't fit. And I haven't thought of a way to slim the protector down. If you have an idea on how to slim it down, I'd love to hear it. I have a notebook with an ExpressCard slot, and I only have a solid ExpressCard protector.
Attached Image: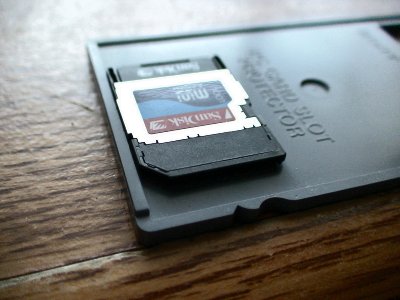 SD Card is a little too tall for solid PCMCIA slot protectors.JPG
Chieh Cheng
Sun, 31 Dec 2006 05:21:48 -0800
On the other hand, if you use Memory Stick Duo's, they will fit just fine with a solid protector tray (see photo below).
Attached Image: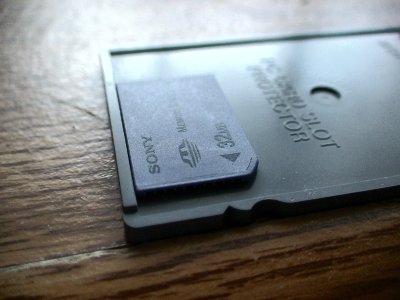 The height of Memory Stick Duo is just about right.JPG
Chieh Cheng
Sun, 31 Dec 2006 05:22:47 -0800
It turns out that the best protector to turn into a memory card carrier is the one that came with my Toshiba notebook computer. It has four compartments that are perfectly sized for SD Cards and Memory Stick Duo's. But the protector has to be turned upside-down. See photo below.
Attached Image: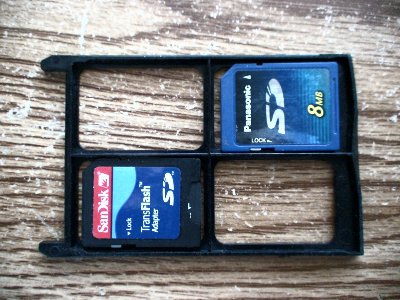 Toshiba PCMCIA Slot Protector Can Hold Four Cards.JPG
Chieh Cheng
Sun, 31 Dec 2006 05:25:27 -0800
One catch is that the protector has protection tabs to prevent you from inserting the protector into the notebook upside-down. The photo below shows the tab. On a real PCMCIA card, that make sense, because you don't want to damage the interface connector inside the laptop computer. But for a protector card, it's useless.
Attached Image: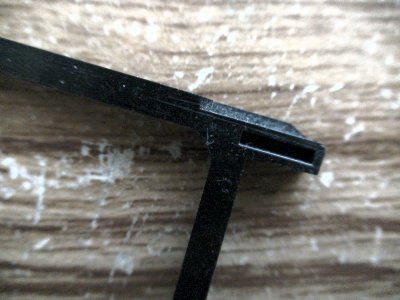 This tab prevents the protector from being inserted upside-down.JPG
Chieh Cheng
Sun, 31 Dec 2006 05:27:31 -0800
Using an X-acto knife, you can easily slice off the tab, as shown in the photo below. But be careful, you don't want to slice into your tender fingers.
Attached Image: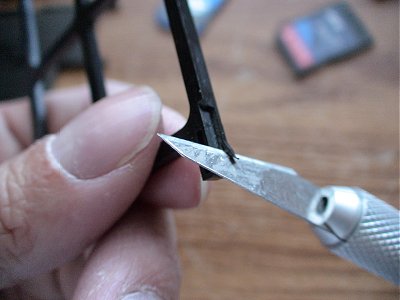 Slice off the tab with an X-acto knife.JPG
Chieh Cheng
Sun, 31 Dec 2006 05:28:55 -0800
After slicing off the tabs from both sides of the protector, you can insert the protector and the SD Cards into the notebook computer (see photo below).
Attached Image: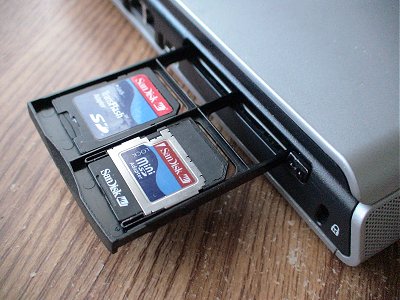 Now the cards slide into the PCMCIA slot with the carrier.JPG
Chieh Cheng
Sun, 31 Dec 2006 05:31:22 -0800
But the rectangular holes are a little too big. It's too easy for SD Cards to fall through them. And Memory Stick Duo's are even smaller, so they fall through immediately.
I found that business cards are sized just right for backing. It is just slightly longer than the protector as shown in the photo below. A little trimming will produce the desired result.
Attached Image: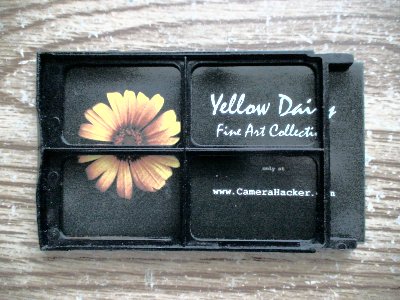 Business card makes a good backing.JPG
Chieh Cheng
Sun, 31 Dec 2006 05:33:05 -0800
In the photo below, I trimmed one of my Camera Hacker business cards to use as backing. The striking yellow daisy graphics turn a normally boring piece of plastic into a colorful work of art. White glue in several spots did the trick of securing the backing to the memory card carrier tray.
Today, I carried three data cards within this tray to my destination.
Attached Image: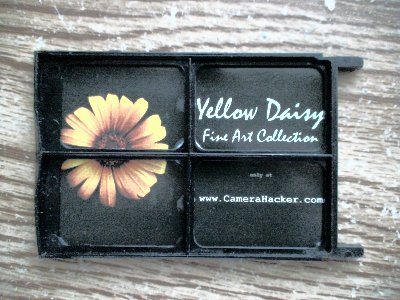 Finished Memory Card Carrier with Graphical Backing.JPG
Chieh Cheng
Sun, 31 Dec 2006 05:35:57 -0800
wicked clever. hats off.
jgodsey
Tue, 09 Jan 2007 01:21:16 -0800
Very cool idea. I just slid a PCMCIA protector out of my HP Compaq nc6120, and had this done in just a couple minutes. No business card backer necessary, as my SD cards seem to fit in the slots without falling through. Thanks for a terrific idea!
Jim
Tue, 09 Jan 2007 11:52:12 -0800
Some course sandpaper would likely work well for thinning down the solid protector.
-Nate
Nate
Wed, 31 Jan 2007 05:19:22 -0800
A Dremel multitool fitted with a slot-cutter (type milling bit) could be used to carve a decent recess into the solid type of protector. Either by using it free-hand, or together with the router attachment! :p
qlue
Wed, 06 Oct 2010 00:51:54 +0000

Add Comment |

Related Links |

TrackBack


Related Content
Did your message disappear? Read the Forums FAQ.
Spam Control | * indicates required field
TrackBack only accepted from WebSite-X Suite web sites. Do not submit TrackBacks from other sites.
Send Ping | TrackBack URL | Spam Control
No TrackBacks yet. TrackBack can be used to link this thread to your weblog, or link your weblog to this thread. In addition, TrackBack can be used as a form of remote commenting. Rather than posting the comment directly on this thread, you can posts it on your own weblog. Then have your weblog sends a TrackBack ping to the TrackBack URL, so that your post would show up here.
Messages, files, and images copyright by respective owners.