Add Comment |
Related Links |
TrackBack

Related Content
Rebuilding the Sony VAIO PCGA-BP51 Li-Ion notebook battery pack
Attached Image: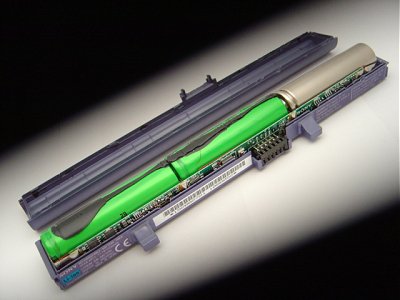 PCGA-BP51 art.jpg
Chieh Cheng
Sun, 21 Nov 2004 12:48:00 -0800
I hate getting rid of stuff. Especially stuff that I use on a daily basis, such as my Sony VAIO PCGA-505TS SuperSlim notebook. Sure it is seven years old and still runs Windows 98 on a 300MHz Pentium II processor. But it is so hard to find a good replacement notebook now days. The 505TS was only 3/4" thick and very tidy. There are hardly any notebooks out there that are that small anymore. The last time I looked, there were zero! Today, the 505TS are still having its "WOW" factor as I carry it around.
Attached Image: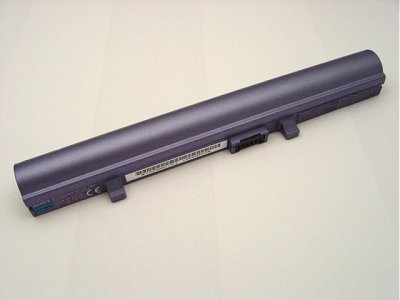 PCGA-BP51.jpg
Chieh Cheng
Sun, 21 Nov 2004 14:35:22 -0800
The 505TS and the 505TX (slightly more features than the 505TS) both use the PCGA-BP51 lithium ion battery pack for power. A brand new battery pack provides an hour and ten minutes of power. An optional PCGA-BP52 doubles to triples the endurance of the PCGA-BP51. My BP51 lasted a little shorter and shorter until it will not hold any charge at all. For the past few years, I have been using the 505TS on plug-in power. The 505TS, being so small, is such a waste to use being strapped to power. But the cost of a brand new battery pack is prohibitive.
Attached Image: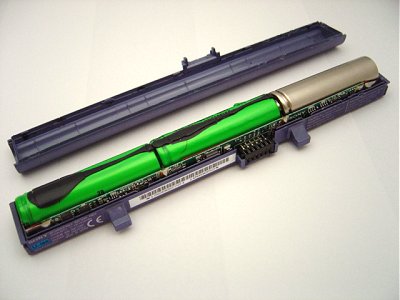 PCGA-BP51 opened.JPG
Chieh Cheng
Sun, 21 Nov 2004 14:39:52 -0800
The next best thing . . . take it apart and see if the cells are replaceable. It was a little intimating at first, since there was no screws or any other fasteners externally. I had to use an X-ACTO knife to pry the two shells apart so that a flat-head screwdriver blade can be inserted. This brute force approach ruin the edges on the two shells, which had to be straightened out later before the shells can be put back together. After pulling the shell apart, I realized that the shells are held together with small tabs and mostly a rubber-like glue on the battery cells. The battery pack would have been easy to disassemble if not for the glue. Once the shells are apart, three battery cells are revealed. Note that the polarity is in one direction.
Attached Image: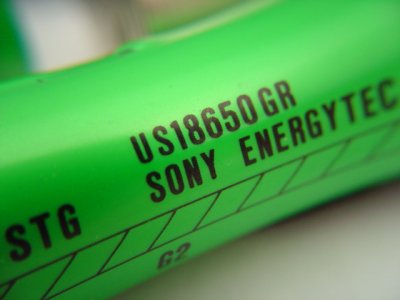 Sony EnergyTec US18650GR.JPG
Chieh Cheng
Tue, 23 Nov 2004 09:13:45 -0800
Examining the cells closer, I found them to be Sony Energytec US18650GR batteries. I even sliced the wrapper off to see if there are any other designations, but there were none other. Then is the time to start looking for Sony Energytec US18650GR suppliers.
Back to finding a supplier . . . I typed in the "18650" keyword and found that there are several brands of 18650 battery cells. Those include the Panasonic CGR18650, LG ICR18650, Samsung ICR18650, and many others. There are plenty of suppliers, so I'll leave the exercise of find one to the reader.
Finally, I ordered two pairs of these batteries from Alltronics. Their web-site could have been designed better, as I tried two web browsers, Mozilla and Firefox, neither worked with their shopping card. I had to resort back to Internet Explorer (gag!) to finally put in my order. Someone might want to help them build a better web site. Nevertheless, my order arrived a week later.
Attached Image: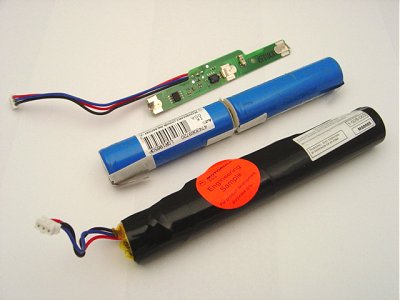 Battery Packs.JPG
Chieh Cheng
Tue, 23 Nov 2004 09:57:28 -0800
The batteries I ordered from Alltronic came in sets of two. They were originally built for some other purpose, with a built-in charging circuit . . . might be useful for some future project. The battery even had a Motorola label that read "Engineering Sample". Anyway, I need three out of the four cells.
Attached Image: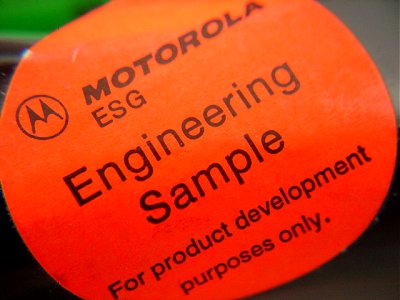 Motorola Engineering Sample.JPG
Chieh Cheng
Sat, 27 Nov 2004 02:01:48 -0800
After unwrapping the Motorola Engineering Samples, I found that one pack is made out of Sony Energytec US18650GR battery cells, while the other pack is made out of Toshiba LGR18650P. Either way, the cells are exactly what I needed to rebuild my notebook battery pack.
Attached Image:


Toshiba LGR18650P.JPG
Chieh Cheng
Sat, 27 Nov 2004 02:04:22 -0800
In the picture below, you can see the interface pin-out for the PCGA-BP51 connector. There are 6 contacts:
-
S.PRE
B.PRE
CLK
DATA
+
I don't really know what S.PRE and B.PRE are. If you do, please let us know.
Attached Image: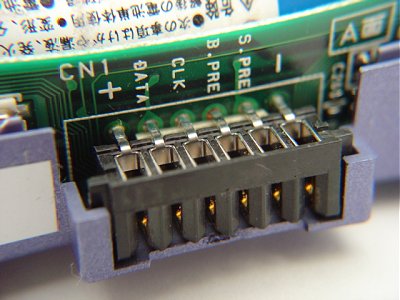 PCGA-BP51 interface pinout.JPG
Chieh Cheng
Sat, 27 Nov 2004 02:07:32 -0800
I pulled the older cells out of the PCGA-BP51, being very careful not to pull the metal tabs out of the circuit board. I wanted to reuse the tabs with the new battery cells. A pair of needle-nose pliers really helped. When I put the new cells into the configuration, I must have been quite careless, because I smelled an electronic burning smell. I immediately realized that I forgot to look at the polarity of the original configuration, and had mounted the new battery cells without even thinking of polarity. I quickly pulled everything apart.
At this point, I was quite nervous that I had damaged the PCGA-BP51 circuitry. Nevertheless, I wired up the battery correctly this time and hoped for the best. The PCGA-BP51 was packed quite tightly, so I decided not to use any solder nor any glue. Everything held together really well.
Being quite excited that the battery was complete, I was again careless. While transporting the battery to the location of my notebook, I managed to drop the battery 4 feet to concrete. I was quite upset, because I figured that if I had not burnt out the circuit board, I surely have damaged it by dropping it. Without solder nor glue, the battery pack still held together after the drop.
I was quite down, but took the battery pack to the notebook, nevertheless. Upon plugging the battery, the computer was able to boot up solely on the amount of juice in the new cells. I was quite happy that the battery pack still worked and immediately proceeded to give it a full charge.
Several hours later, the battery pack was charged, so I did a timing test. The battery lasted exactly 1 hour and 10 minutes (70 minutes). That is the same amount of time a brand new PCGA-BP51 could expect on a Sony VAIO PCGA-505TS notebook. Time to rebuild the longer lasting PCGA-BP52 . . . 8-)
Chieh Cheng
Sat, 27 Nov 2004 02:20:39 -0800
hi
i need 8 pic Toshiba LGR18650P for repair my notebook battery.
can you help meto finding it?
thanks
iraj badrian
Wed, 05 Jul 2006 01:54:49 -0700
I was reading your: Rebuilding the Sony VAIO PCGA-BP51 Li-Ion notebook battery pack and I want to know the coast of your procedure.
Thanks a lot,
Hermes
Mon, 18 Sep 2006 09:31:40 -0700
What do you mean "coast"? Do you mean "cost"?
Chieh Cheng
Mon, 18 Sep 2006 10:17:10 -0700
sorry, it's cost.
Hermes
Mon, 18 Sep 2006 11:35:53 -0700
I remember it costed about $10 for a pack of two. So, it costed $20 for two packs.
Chieh Cheng
Mon, 18 Sep 2006 12:33:46 -0700
After almost two years, the BP51 died again. It's completely dead. When the computer is plugged in, the charge light will continuously flash.
I think it is not ok to leave the battery plugged in while always connected to the wall socket. It will only shorten the battery life.
I also have an used BP52 that I bought off eBay. It hasn't died yet. I think it is because it is always sitting in my computer bag, fully charged. I only install it on the notebook when I need to actually use it or charge it.
Therefore, I think the battery will last a long longer if you charge it and remove it. Only install it when you are actually going to use the battery.
Chieh Cheng
Fri, 17 Nov 2006 13:30:34 -0800
Rechargeable batteries will die quicker if continually 'topped-up' - It is always recommended to 'cycle' rechargeable batteries, that is, from new, fully charge them, then run them until dead, before recharging.
Oh, yeah, I found this page because I am about to attempt to rebuild an F1466A battery pack for an aging HP OmniBook 4150B - and refuse to pay GBP120 for a battery... ;)
alloydog
Tue, 20 Feb 2007 04:32:27 -0800
"It is always recommended to 'cycle' rechargeable batteries, that is, from new, fully charge them, then run them until dead, before recharging"
Erm, look's like this is NOT the case with Lithium-ion batteries...
Lithium-ion battery
alloydog
Tue, 20 Feb 2007 22:38:49 -0800
Just asking if whats the voltage rage of that LGR18650P Rechargeable li-ion battery. Just the single battery only.
Noel
Wed, 28 Nov 2007 02:40:31 +0000
All lithium ion battery cells are rated at 3.7 volts, at least, for now.
Chieh Cheng
Wed, 28 Nov 2007 11:19:55 +0000
To be precise, there is at least two types of Li-Ion batteries, that was in use in older laptop batteries. Difference in a charge cutoff voltage. Older ones had 4.1V, newer - 4.2V. So, it is good idea to check which one you have before replacing anything. If you put 4.1V cells to a pack with 4.2V controller - you will get serious problems (like vented cells) on a first charge. If you put 4.2V batteries to a pack with 4.1V charge controller - you will have reduced capacity but nothing dangerous.
Fortunately, cells with 4.1V cutoff voltage now hard to find.
Ve
Sun, 02 Mar 2008 13:48:27 +0000
BTW, there is also new LiFePO batteries that have higher capacity than regular LiIon cells, but lower voltage (3.2V if I remember correctly). Never try to put these cells to laptop packs designed with regular LiIon cells - it is not compatible.

Ve
Sun, 02 Mar 2008 14:02:37 +0000
I have recently bought some more 18650 batteries. But this time around, I got the 3.6v version. After rebuilding the battery pack, the battery pack did not power the laptop, nor did it charge, even though the charge indication was on. At first, I thought maybe the circuit board was fried. But after some detailed examination of the battery pack, I noticed the PCG-BP51 rating: 11.1V/1550mAh.
There are three 18650 battery cells in the battery pack. So 11.1V divided by 3 is 3.7V. At this point, I'm suspecting that the battery cells I got doesn't provide enough voltage; 3.6v time 3 equals 10.8v. The 3.7v versions are more expensive than the 3.6v versions. But I think I'll get some of the right voltage and try again.
Chieh Cheng
Sat, 26 Jul 2008 19:46:29 +0000
Very nice directions. Unfortunately, they didn't work for me. In fact, I'm 0 for 2 on BP51's. In pack no. 1, I carefully replaced the three cells with fresh 18650's (that I individually charged before using) and then tried it out. BatteryScope said there was 100% wear and zero charge remaining. It never charged in my 505TR. Turns out fuse F1 on the battery board had opened. When I bridged it with a 5A picofuse, that blew too. At that point I figured I had nothing to lose so I cautiously bridged F1 with a piece of wire. After half a second, transistor Q1 started releasing the magic smoke. I'm not sure if Q1 was the cause or a downstream victim of something else, but without a schematic of that board it was pretty much all over.
I then moved the three new cells to dead pack no. 2. I checked the fuse first and it was OK, as was the thermal protector. But this pack refused to charge too. BatteryScope said it had 0% charge and 247 hours to full charge, but it never charged either. It measured 11.3V from the + to - battery terminals, but zero at the + and - connector pins. I never figured out what this one's problem was.
So beware, not all BP51's will respond to a battery swap.
Michele
Tue, 05 Aug 2008 05:38:15 +0000
Did you ever find out the functionality of the battery's pinout (DATA, CLK ect.); in trying to diagnose the fault with my vaio battery I'm considering scoping the digital interface.
Seb
Tue, 05 Aug 2008 18:29:40 +0000
Nope. I have never figured it out. Let us know if you do.
Chieh Cheng
Tue, 05 Aug 2008 23:44:06 +0000
The DATA and CLK pinout on battery is for a battery charge controller. Newer LiIon packs use SMBus(SMartBus) controllers to charge in a way suited to each individual pack. It varies how each pack uses this, but the DATA takes microcontroller data to/from the computer and the CLK maintains clock pulse with the system so it may keep time in the communication cycle.
HerrUnderdogg
Mon, 29 Sep 2008 16:40:32 +0000
Did you ever figure out what the S.PRE and B.PRE pinouts were for? And what does CLK stand for? I'm thinking about replacing the batteries in my laptop battery pack and want to know if I have to keep power to the circuitry in the pack while replacing the batteries. I've heard that you have to do this in some cases.
TinFury
Thu, 30 Apr 2009 02:19:11 +0000
I have a third-party replacement battery. B.PRE shortened to "-" pin, S.PRE not connected
lemonacid
Sun, 20 Dec 2009 16:41:57 +0000
B. Pre is "battery present". On my batteries I assume this is the pin with 5v on it, has to be connected to ground to enable the battery's output.
Mike
Sun, 06 Feb 2011 10:40:00 +0000
I now need 6 of these cell types & strangley cannot locate them in the UK, can you or anyone post me 6 please.
Thanks
Mick
Mick
Wed, 09 Feb 2011 23:15:08 +0000
I found this link for the batteries you are looking for Item number:190362380948 Toshiba LGR18650P
Eric C
Sun, 13 Feb 2011 22:45:17 +0000
Hi,
Thanks for posting the infomation. I had an old Sony laptop, and wanted to re-use the batteries as part of another project (Solar powered USB charger unit).
As the solar panel I have is 12V (its from a solar car charger) and the Laptop battery is supposed to be 11.1v (in my case). It was an ideal match.
But I didn't know what the pinout was, and I didn't want to hack it apart as I wanted to keep the case intact to use as part of the solar USB charger. Hence your posting was very useful.
I do realise that USB is 5V and this is 11v but I'm going to use a voltage regulator, or possibly a load of diodes in series with the USB line to make sure the output is 5V at the USB sockets.
Cheers
Roger....
Roger Clark
Fri, 15 Jul 2011 07:41:15 +0000
Sounds like a really interesting project. When you are done, drop us a note or a photo.
Chieh Cheng
Fri, 15 Jul 2011 21:03:46 +0000
I had a VGP-BPL9, 11.1v 7800mAh Sony Vaio battery. The cells seem to be standard Sanyo made 18650's (3 of 3x3.7v). I am considering replacing the battery pack as it has suddenly died. It was lasting ~1h even a week back, but after I dropped it I seems to have sprung loose connections. It is charging but very slowly. The ones in eBay seem of the right specs but hard to pinpoint the legit seller there ! A camping gear seller <http://www.campsolution.com/li-ionsanyo1865036v26ah2600mahce . . . has them for $13 each, the price seems pretty steep, unless those are real Sanyos (again hard to validate).
Can you give some pointers as to where I can buy Sanyo 18650s (authentic or atleast reliable ones). I am in the US. Thanks
NiruC
Wed, 29 Feb 2012 05:55:44 +0300
I have a Sony Vaio PCG-C1. I am in the process of building my own battery pack and solar charger setup. I want this Vaio to be my
MP3 player, Digital Photoframe,... but mainly as MP3 player. My goal is to make it as energy efficient as possible, so I can basically just keep running it all day long listening to music whilst I'm doing other things on my other computer(s). I have ordered a cheap CF -> IDE 44 pin adapter (can mount up to 2 CF cards, 2 slots) and a SILICONPOWER CF Card 8GB 200x speed (30MB/s)to replace the original 3.2GB mechanical HDD, which on it's own draws over 500mAh and it's very noisy, annoying whining sound. I took apart the original sony 11.1V 1500mAh 3 cell battery, and there was no way for me to take it apart nicely without breaking it, anyways I just wanted to take out the charge controller circuit and I did. Unfortunately by the time I found this forum I ended up frying the charge controller circuit. Thanks to TinFury's post I got the 2x 12V 1300mAh (each)rechargeable batteries from my cordless drills working. They power the little vaio perfectly, I tested it today playing MP3's (340KBps rate) and I got over 3 hours out of it playing sound through external speakers via the headphone out! So that's only 2.6Amp combined I guess (12V 1300mAh each x 2 batteries). Anyways, I'm just happy that I found this forum and YES TinFury is RIGHT, B. Pre = BATTERY PRESENT, and shorting B. Pre to the '' - '' negative pin does ENABLE the battery and battery starts pumping juice through the '' + '' and '' - '' pins. Thank you very much for everybody's help.
I still don't know what S. PRE pin is? Could it possibly mean Supply Present (AC adapter / charger / ''power Supply'')???
TinFury
Thu, 30 Apr 2009 02:19:11 +0000
I have a third-party replacement battery. B.PRE shortened to "-" pin, S.PRE not connected
lemonacid
Sun, 20 Dec 2009 16:41:57 +0000
B. Pre is "battery present". On my batteries I assume this is the pin with 5v on it, has to be connected to ground to enable the battery's output.
Thanks TinFury.
Sasa
Thu, 24 May 2012 15:39:18 +0400
Add Comment |
Related Links |
TrackBack

Related Content
Did your message disappear? Read the Forums FAQ.
TrackBack only accepted from WebSite-X Suite web sites. Do not submit TrackBacks from other sites.
Send Ping | TrackBack URL | Spam Control
Title: Canon BP511 Disassembly
Weblog: Camera Hacker
Excerpt: don't solder lithium ion cells! it is very dangerous. lithium ion cells can explode when overheated, that's why so many laptop batteries get recalled. spot welding just like in a factory is the best way to join them. go to a battery shop and ask them to do it.
Tracked: Tue, 07 Aug 2007 19:44:03 +0000
Title: Sony VAIO VGN-S5XP Doesn't Recognize Battery
Weblog: GearHack
Excerpt: Thanks for the unvaluable information about the meaning of Sony's battery connector. I have a problem with my vaio VGN S5XP: the battery is not recognised anymore. I tried a brand new battery and it is the same. I exclude a OS problem since the battery led is flashing far before any OS is loaded. . . .
Tracked: Mon, 24 Nov 2008 07:46:09 +0000
Spam Control | * indicates required field
Messages, files, and images copyright by respective owners.