Add Comment |
Related Links |
TrackBack

Related Content
Replacing the Averatec 3120V CPU Fan
Recently, my Averatec 3120V notebook crashed. At first, I had thought it was the hard drive crash. But after replacing the hard drive, the computer made a loud grinding noise on boot up. This problem made me look at the CPU fan. The fan is usually the first component to go in a computer system. Being in constant motion, it's only a matter of time before the rotational bearing wears out. So periodically replacing the fan in a computer is pretty much without a doubt. However, this is a notebook computer we are talking about. Question is how hard is it to source a fan?
Before we can source a fan, we need to find out what fan it is. And we can only do that by disassembly the CPU compartment. First thing to do is to look at the bottom of the notebook and find all the component covers. On the Averatec 3120V notebook, you can easily spot the CPU and fan cover by the circular vents (see photo below).
Attached Image: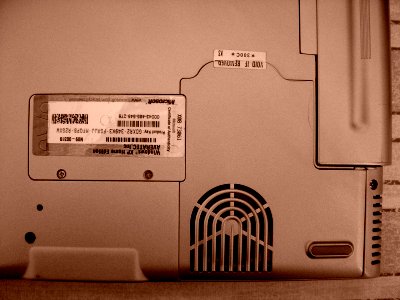 Averatec 3120V Access Panels.jpg
Chieh Cheng
Wed, 25 Apr 2007 22:12:40 -0700
On this notebook, we can only pry open the CPU/fan cover after removing the memory cover. There are two small screws that can be easily removed with a Phillips mini-screwdriver. Remove these screws to reveal the memory module (see photo below).
Attached Image: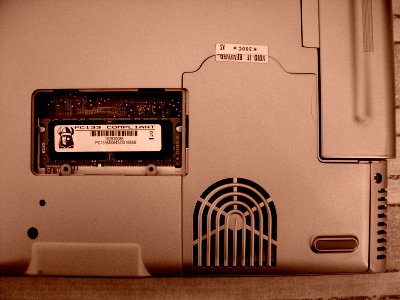 Averatec 3120V Memory Expansion Exposed.jpg
Chieh Cheng
Wed, 25 Apr 2007 22:14:37 -0700
Once the memory upgrade cover is removed, the CPU/fan cover can be pried open. Insert mini-flat-blade screwdriver into the slot between the CPU/fan cover and the memory upgrade opening to pry the panel open. After removing the cover, the CPU fan and heat sink is exposed as shown in the photo below.
Attached Image: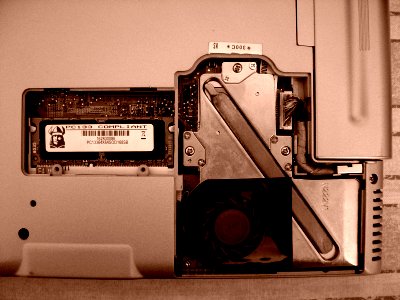 Averatec 3120V Fan and Heatsink Exposed.jpg
Chieh Cheng
Wed, 25 Apr 2007 22:17:37 -0700
To remove the fan on the heatsink, use the mini-Phillips screwdriver to unscrew the three larger screws on the heatsink. These three screws are under spring tension. So you have to take turns unscrew them repeatively until they are all
unscrewed. Once the heatsink is loose, you can remove it (see photo below). But be careful, the fan wires are still attached to the notebook.
Attached Image: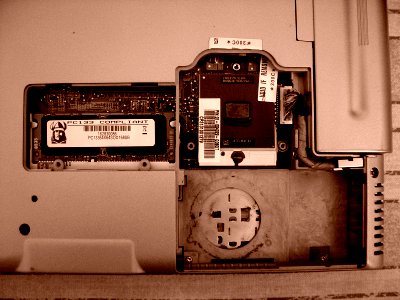 Averatec 3120V CPU Exposed.jpg
Chieh Cheng
Wed, 25 Apr 2007 22:19:02 -0700
The following photo shows the underside of the fan and the heatsink.
Attached Image: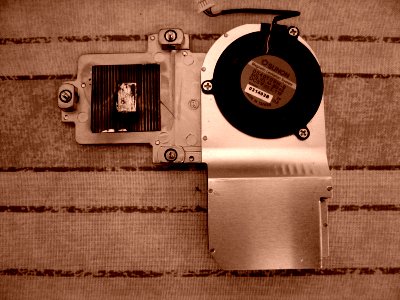 Averatec 3120V Heatsink Underside.jpg
Chieh Cheng
Wed, 25 Apr 2007 22:20:04 -0700
The following photo shows the fan label with the manufacturer and model number. It's a Sunon 054010VH-8. A quick search on Google showed that Allied Eletronics sells this fan for $18.27. I just put in an order. I will keep you posted on the result when the fan arrives.
Attached Image: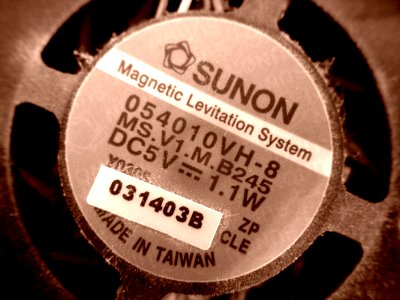 Averatec 3120V CPU Fan Label.jpg
Chieh Cheng
Wed, 25 Apr 2007 22:20:59 -0700
I got the new fan yesterday. Looks just like the old one. The label is slightly different "MagLev System" rather than fully spelled out is what stood out the most.
The fan is easy to replace once you have the heat sink out. Just unscrew three screws, swap the fan, and screw the three screws back.
Putting the heat sink back is like taking it out. The screws are under tension, so you have to screw each of them a little bit at a time in turn, until they are all tight.
Other than that putting everything back is just the reverse of taking it apart.
Chieh Cheng
Thu, 03 May 2007 16:02:40 -0700
Thanks for all the information. I've been looking online for two hours for a place to purchase a new fan. Your link was very helpful....Thanks!
AJ
Sun, 24 Feb 2008 04:24:58 +0000
Hey nice job with the installation guide it will help many people. Thanks for the post and the link.
Shane
Tue, 06 May 2008 04:00:48 +0000
I can not use my laptop to my fan does not work, so I wanted to buy a Fan, please give me the price please .
Besy Wilson
Besy Wilson
Tue, 14 Oct 2008 03:31:55 +0000
Thanks for this - I had a problem with my fan stopping and decided to go through these steps to check it out. Very easy to get to the CPU on this notebook! Clearly they planned for failure :-)
Just to see what I was dealing with, I pulled off the labels on the 2 faces of the fan. Not much interesting on the label side with the writing, but on the pure black label (didn't even realize it was a sticker at first)...when the label is peeled back it appears to partially expose ball bearings (3 holes with metal visible). I tried some 3 in 1 oil on this side, worked it for awhile, and it came back to life. Very stiff to turn when it first came out, but now is very smooth. I left this exposed, but I should probably put some tape on it to keep dust out. Not sure how much life it has, but it seems like new for the time being. I'd definitely try this before replacing the fan. Also, you don't need to remove the heatsink to do it if you don't want to - just make sure to dry up excess oil before turning it on!
Now to try adding that 512MB module I hear works! partspc has a generic sodimm for $23 shipped!
pat
Sun, 26 Oct 2008 16:19:22 +0000
That's a great idea, pat. I still have my old fan. Maybe I'll try lubricating it the next time. Or I'll build it into something else. Thanks.
Chieh Cheng
Sun, 26 Oct 2008 17:59:58 +0000
Thanks for keeping this post up. I just pulled my old 3120v out to be a living room email machine and found it needed a fan. It's on order!
BigA
Tue, 27 Jan 2009 03:57:37 +0000
I removed the fan from my Averatec laptop, few times and cleaned it up but this last time I have problem to connect it to motherboard seems the connection doesn't exist anymore or it is broken!! How can I repaire this?
momken
Tue, 05 May 2009 12:12:43 +0000
Hey where could I buy that guys can you give me a link to a site.
pls... I also need that Fan cause my ain't working anymore.but my has 4wires DC 5V.
and this my email: Guys
[email protected]
lloyd randolph ancheta
Thu, 19 Aug 2010 06:47:56 +0000
note: Sunon has replaced this part and modified number; 054010VH-8 SKU: MS.V1.M.B245; B245 is now B24. For more sources use yahoo search. You may need a company name for request quote form from major distributors.www.laptopfans.co.uk lists a 3 wire version for 3120x.Allied Electronics no longer lists this item.2 wire version for 3150 N150 at Maflex, 16129, on Ebay
Garrett Combs
Wed, 19 Dec 2012 21:37:14 +0300
Add Comment |
Related Links |
TrackBack

Related Content
Did your message disappear? Read the Forums FAQ.
Spam Control | * indicates required field
TrackBack only accepted from WebSite-X Suite web sites. Do not submit TrackBacks from other sites.
Send Ping | TrackBack URL | Spam Control
No TrackBacks yet. TrackBack can be used to link this thread to your weblog, or link your weblog to this thread. In addition, TrackBack can be used as a form of remote commenting. Rather than posting the comment directly on this thread, you can posts it on your own weblog. Then have your weblog sends a TrackBack ping to the TrackBack URL, so that your post would show up here.
Messages, files, and images copyright by respective owners.