Add Comment |
Related Links |
TrackBack

Related Content
Seagate 5 GB ST1 Drive in PCMCIA
I took the Seagate 5GB ST1 Microdrive out of a Rio Carbon and inserted it into the PCMCIA slot on my Windows XP notebook, but the drive does not show up in "My Computer". So I looked at the Device Manager and it shows the "PCMCIA IDE/ATAPI Controller" driver, but no driver for the disk drive itself.
Is there a way I can get the drive to show up?
Attached Image: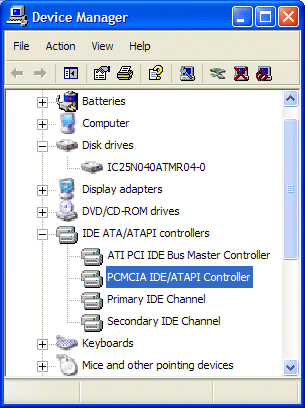 Device Manager on Windows XP.gif
Chieh Cheng
Thu, 16 Dec 2004 08:18:13 -0800
Chieh, it would not show up as a drive in the explorer right out of Carbon.
The reason is, Carbon does not format the drive with FAT. Instead it emulates a portion of disk as a FAT partition. More specifically, the location of partition tabe and FAT tables on a drive pulled fresh out of working Carbon is not the standard one.
However, you can format the drive in Windows and then on it will show up as a drive. You cannot use this Windows formatted drive in a Carbon!
digicool
Fri, 17 Dec 2004 12:36:00 -0800
Thanks for the tip on how Rio Carbon deals with the partitions. So how do you format a drive in Windows if it doesn't show up?
Chieh Cheng
Fri, 17 Dec 2004 12:55:03 -0800
Computer Management is the tool. Right click my computer icon and select Manage.
Inside the tool, choose Disk management. You will see a 4900 odd MB drive showing up (beware, it will take more time than usual to show the drives because it will try hard to understand the Seagate drive's format which is non-standard). Right click that drive and select format!
digicool
Sat, 18 Dec 2004 09:05:54 -0800
Thanks, I will give that a try in a few days.
I tried to log on to Riovolution to continue our discussion, but got a message:
This site is defaced!!!
NeverEverNoSanity WebWorm generation 11.
Did Riovolution get hacked?

Chieh Cheng
Mon, 20 Dec 2004 14:36:28 -0800
Some information about the drive being locked now: Re: Seagate ST1 Format
Chieh Cheng
Wed, 29 Dec 2004 17:10:56 -0800
My MP3 Memory is Seagate ST-1 5GB!!
RamDisk
Wed, 25 Jan 2006 02:42:51 -0800
Which MP3?
Chieh Cheng
Wed, 25 Jan 2006 07:26:25 -0800
I have confirmation that the embedded Seagate 5 GB ST1 will not how up in Disk Management. Please see the "My Adventure with the Seagate 5 GB ST1 Drive (FW: 3.08)" TrackBack below.
Chieh Cheng
Thu, 26 Jun 2008 20:48:17 +0000
i just extracted a Seagate 5GB ST1 Drive from my Olympus m-robe 100...i feel like a little kid but i don't know what to do next... the mp3 was showing a message: Total error, service needed 04.. and the guys at the service line told me that service costs 98 euros.. almost the price i bought that 3-4 years ago..
when i connect it to windows.. it sees it.. but cannot read it, and i cannot format it...
so i supposed that the hard disk is broken out...
i see that you use it in IDE mode, but how do you connect this little cable line to the ide cable? is there any adapter for that?
also, are there any seagates this kind of model to buy, or were they meant for industrial use only?
George L.
Tue, 10 Mar 2009 15:56:43 +0000
See the "My Adventure with the Seagate 5 GB ST1 Drive (FW: 3.08)" TrackBack link below. That should answer all your questions. If not, please ask. Good luck.
Chieh Cheng
Tue, 10 Mar 2009 17:37:42 +0000
Add Comment |
Related Links |
TrackBack

Related Content
Did your message disappear? Read the Forums FAQ.
TrackBack only accepted from WebSite-X Suite web sites. Do not submit TrackBacks from other sites.
Send Ping | TrackBack URL | Spam Control
Title: Rio Carbon Internals
Weblog: GearHack
Excerpt: I am successfully using the Rio Carbon 5GB drive in my Canon S1 IS. I just inserted it and formatted in in the camera using the camera's memory card options. I haven't used it for very long. I'm guessing battery life will go down some and write speeds will be a little slower. But man! I just increas . . .
Tracked: Mon, 31 Oct 2005 16:27:15 -0800
Title: My Adventure with the Seagate 5 GB ST1 Drive (FW: 3.08)
Weblog: GearHack
Excerpt: Four Seagate 5 GB ST1 Microdrives arrived at my door a few days ago. I had ordered them off eBay, hoping to use them for several potential purposes: 1) primary notebook drives; 2) digital camera storage; and 3) portable storage. I had several run-ins with Microdrives before. The first one was a I . . .
Tracked: Sat, 21 Jun 2008 00:38:55 +0000
Spam Control | * indicates required field
Messages, files, and images copyright by respective owners.