Add Comment |
Related Links |
TrackBack

Related Content
Door Stopper to Make Your Job Easier
A little while back, I was replacing the deadbolt and the door knob on my garage door. But the swinging door just won't hold still. It kept flopping around while I'm working on it. I needed something to hold it steady. I happen to have an un-mounted vise sitting on the garage floor. It was perfect for the job. I clamped the vise down on the door and it no longer moved. I finished in a third of the time. Got an unused vise around, it could come in handy one day.
Attached Image: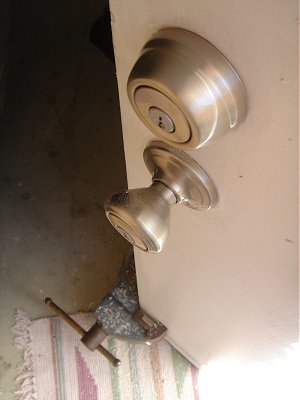 Vise as the Third Hand.jpg
Chieh Cheng
Fri, 02 Feb 2007 01:08:15 -0800
Add Comment |
Related Links |
TrackBack

Related Content
Did your message disappear? Read the Forums FAQ.
Spam Control | * indicates required field
TrackBack only accepted from WebSite-X Suite web sites. Do not submit TrackBacks from other sites.
Send Ping | TrackBack URL | Spam Control
No TrackBacks yet. TrackBack can be used to link this thread to your weblog, or link your weblog to this thread. In addition, TrackBack can be used as a form of remote commenting. Rather than posting the comment directly on this thread, you can posts it on your own weblog. Then have your weblog sends a TrackBack ping to the TrackBack URL, so that your post would show up here.
Messages, files, and images copyright by respective owners.