Add Comment |

Related Links |

TrackBack


Related Content
Kenmore Elite ULTRA WASH Dishwasher 665 Completely Dead!
I filled up the dishwasher but no lights come on. I even bought a new breaker. Nothing! It is dead...
before my wife ask me to buy a new dishwasher I would like to ask somebody to give me an idea what to do!
Model 13923k012, stainless steel, like in the picture.
Thank you,
Laszlo
Laszlo Sandor
Mon, 12 Mar 2018 20:33:01 -0700
Laszlo is referring to this photo: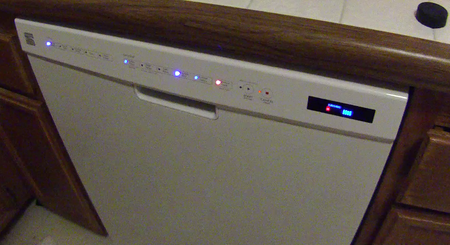 Tim
Mon, 12 Mar 2018 21:07:20 -0700

Add Comment |

Related Links |

TrackBack


Related Content
Did your message disappear? Read the Forums FAQ.
TrackBack only accepted from WebSite-X Suite web sites. Do not submit TrackBacks from other sites.
Send Ping | TrackBack URL | Spam Control
Title: Kenmore Elite ULTRA WASH Dishwasher 665 Stuck on "Rinsing"
Weblog: GearHack
Excerpt: I have a Kenmore Elite Dishwasher (either 665.1392 or 665.1394) that got stuck yesterday. It got stuck in the middle of a wash. The LCD has "Rinsing" and four bars blinking. The lock indicator is on. Smart Wash, Turbo Zone, Heated Dry, and 4 Hour Delay, Control Lock, and Cancel buttons are lit (see . . .
Tracked: Mon, 12 Mar 2018 21:06:13 -0700
Spam Control | * indicates required field
Messages, files, and images copyright by respective owners.