Add Comment |
Related Links |
TrackBack

Related Content
KERUI Home Security System Review: Wireless PIR Motion Detector
Hi , I bought similar system (kerui X1). I'm in trouble with pir batteries. It didn't work properly with cheap batteries. I think it needs Duracell, energizer, etc..
How to use pir with micro usb ?
Can charge niMH batteries with pir ?
Which is first power supply at batterie+micro usb combination ?
enginckc
Sat, 30 Apr 2016 16:31:35 +0400
I am guessing the cheap battery you mean heavy duty batteries. Yah. Don't believe the wording. Heavy duty batteries don't have enough juice. You'll need alkaline batteries.
My PIR has a microUSB port on the side, next to the power switch. See this photo: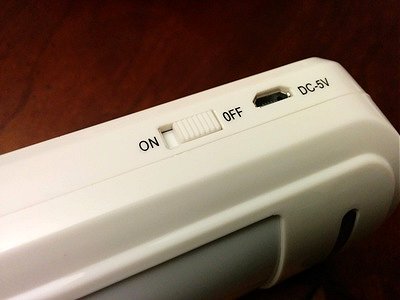 I don't think the microUSB charges the batteries. But I don't know. Never tried it.
Mel
Sun, 01 May 2016 12:36:43 +0400
Bad news..
1- If you walk like a dog on the floor , it never detect you..
Also not pet illuminate pir (same like photo)..
Pir mounted 2 meters height on the wall ( I'm 85 kg 1.75 m )
2- Magnetic door sensor mounted iron door but couldn't signal to main unit only 2 meters..
My solution like this (don't cover antenna hole )
enginckc
Wed, 04 May 2016 01:10:33 +0400
Hi what distance will the sensors work? i have two garden sheds located located 40-60 meters away.
James
Mon, 03 Apr 2017 14:51:35 -0700
Add Comment |
Related Links |
TrackBack

Related Content
Did your message disappear? Read the Forums FAQ.
Spam Control | * indicates required field
TrackBack only accepted from WebSite-X Suite web sites. Do not submit TrackBacks from other sites.
Send Ping | TrackBack URL | Spam Control
No TrackBacks yet. TrackBack can be used to link this thread to your weblog, or link your weblog to this thread. In addition, TrackBack can be used as a form of remote commenting. Rather than posting the comment directly on this thread, you can posts it on your own weblog. Then have your weblog sends a TrackBack ping to the TrackBack URL, so that your post would show up here.
Messages, files, and images copyright by respective owners.