Add Comment |
Related Links |
TrackBack

Related Content
Real and Fake Dogs Are Good Theft Deterrents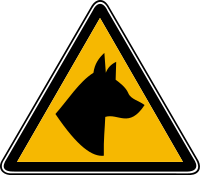 As I think more about home security, I shared my thoughts with my friends. The ones who owned dogs brought up a good point. They feel relatively safe, because whenever someone visits their residence, their dog(s) bark. If a thief is to walk up on the front door, the barking dog(s) may turn him/her away to look for a lower bearing fruit.
If you are a dog lover, then it's no brainer, you go get a dog right away. But if you don't want another mouth to feed, I've found a number of fake dog alarms that can recognize approaching people and "bark". For example, the Safety Technology International ED-55 Rex II, the electronic watchdog alarm
could detect motion behind doors and walls. It can bark and growl, scaring would be burglars away. You adjust the sensitivity and all it consumes is a bit of electricity.
What do you think? Has anyone here with either real dogs or fake dog alarms experienced a burglary attempt?
Mel
Fri, 17 Apr 2015 03:52:40 +0400
Add Comment |
Related Links |
TrackBack

Related Content
Did your message disappear? Read the Forums FAQ.
Spam Control | * indicates required field
TrackBack only accepted from WebSite-X Suite web sites. Do not submit TrackBacks from other sites.
Send Ping | TrackBack URL | Spam Control
No TrackBacks yet. TrackBack can be used to link this thread to your weblog, or link your weblog to this thread. In addition, TrackBack can be used as a form of remote commenting. Rather than posting the comment directly on this thread, you can posts it on your own weblog. Then have your weblog sends a TrackBack ping to the TrackBack URL, so that your post would show up here.
Messages, files, and images copyright by respective owners.