Add Comment |
Related Links |
TrackBack

Related Content
easy way to light up the Weller cordless soldering iron
I have a Weller Portasol cordless soldering iron. This cordless soldering iron runs off butane gas, which is easily available at the local Home Depot. The soldering iron is quite convenient because it allows me to perform soldering jobs away from my workbench.
To start the soldering iron, you have to open the butane valve, then use the spark starter that is built into the cap to light up the butane burner. Although it is relative easy to generate spark from the cap, I have only been able to start the soldering iron once with it. Recently, I couldn't get the soldering iron to start at all despite wearing out my thumb with the "fire starter".
Everyone nowadays have lighter at home. No one uses matches anymore. And today, they have these ultra-safe lighters for starting BBQ's and stuff. So, it occurred to me that it would be really easy to start the butane soldering iron with a lighter (see attached picture). I happen to have one in the kitchen drawer. I pulled it out. The lighter started the cordless soldering iron instantly. I will never spend half-an-hour trying to light the cordless soldering iron with the spark generator again!
Attached Image: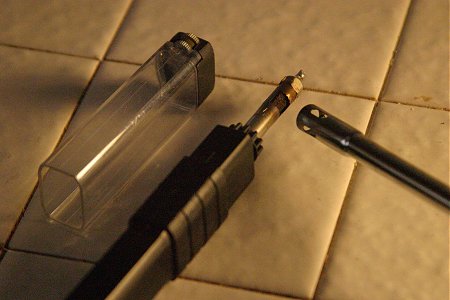 Lighting the Butane Soldering Iron.jpg
Chieh Cheng
Sun, 9 Oct 2005 09:51:58 -0700
I just recently found mine when I moved my big tool box. I guess it had fallen down behind the tool box somehow some ten years ago. I thought someone took it, lol.
I was amazed when it lit right up after sitting unused for ten years. How is that even possible?
The built-in spark emitter deal is kind of awkward to use because you have to aim it just right so the sparks go into the ignition chamber but with a little practice it works okay.
Billy
Fri, 31 Jul 2015 22:32:54 +0400
Add Comment |
Related Links |
TrackBack

Related Content
Did your message disappear? Read the Forums FAQ.
Spam Control | * indicates required field
TrackBack only accepted from WebSite-X Suite web sites. Do not submit TrackBacks from other sites.
Send Ping | TrackBack URL | Spam Control
No TrackBacks yet. TrackBack can be used to link this thread to your weblog, or link your weblog to this thread. In addition, TrackBack can be used as a form of remote commenting. Rather than posting the comment directly on this thread, you can posts it on your own weblog. Then have your weblog sends a TrackBack ping to the TrackBack URL, so that your post would show up here.
Messages, files, and images copyright by respective owners.