Add Comment |
Related Links |
TrackBack

Related Content
infrared detector
Do you want to determine whether your infrared devices are working?
Since infrared light is not visible to our naked eyes, it makes it difficult to determine if your infrared remote control or your computer's IrDA port is transmitting infrared signal. However, if you have a digital camera (a common consumer electronic nowadays), you can use it to detect infrared light. Digital camera sensors (CCD or CMOS) are extremely sensitive to infrared light. Although most consumer digital cameras contain an IR-blocking filter (for color correction), some portion of the infrared spectrum still passes through. If you point the infrared remote control at your digital camera, it is likely that you will see the infrared light on the LCD. Digital cameras without LCD can still capture the infrared light for you to review on your computer. Digital cameras are extremely valuable tools for seeing infrared light.

Attached Image: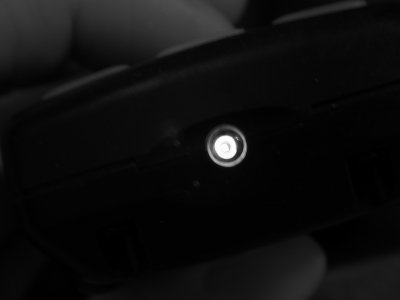 Infrared LED.jpg
Chieh Cheng
Fri, 18 Feb 2005 20:08:19 -0800
Add Comment |
Related Links |
TrackBack

Related Content
Did your message disappear? Read the Forums FAQ.
TrackBack only accepted from WebSite-X Suite web sites. Do not submit TrackBacks from other sites.
Send Ping | TrackBack URL | Spam Control
Title: How dirty is your carpet?
Weblog: GearHack
Excerpt: Want to find out how dirty your carpet really is? Use an infrared camera with an opaque infrared filter, like a RM72. The picture shown below was taken with my Sony DSC-P92 digital camera that has been modified for infrared photography. A RM72 filter was mounted in front of the lens to eliminate . . .
Tracked: Mon, 16 Mar 2009 03:02:18 +0000
Title: Effect of Infrared in Night Vision Photography
Weblog: Camera Hacker
Tracked: Mon, 16 Mar 2009 03:08:01 +0000
Spam Control | * indicates required field
Messages, files, and images copyright by respective owners.