Revision: 20080525_195644 | All Revisions
---
Adding the Brother MFC-7820N Network Printer to Windows Vista
If your Brother MFC-7820N is already running on your network, you can follow the instruction here to get it to work with your Windows Vista computer. First download the "Add Printer Wizard Driver" from Brother's web site (see "Related Links" below). The driver is about 3 MB.
After downloading the driver, double-click on the driver executable. The executable archive will ask you where to decompress the files. I suggest you put it in a folder on the Desktop.
Next, open up "Printer" through the "Control Panel". Once it's open, click on "Add a printer" link on the top. That brings up the "Add Printer" dialog as shown in the screen shot below. Click on the "Add a local printer" button to move forward; even though we are setting up a network printer, we have to go through the install local printer route.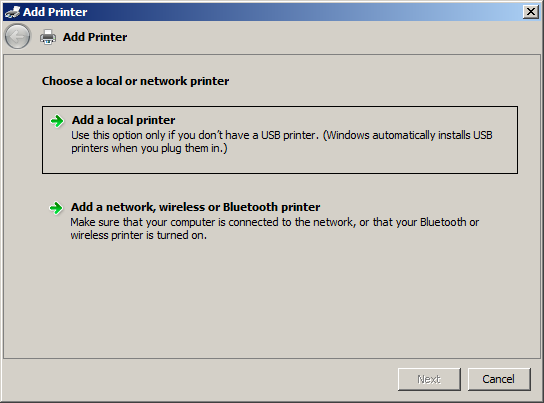 In this "Choose a printer port" screen, we will create a new "Standard TCP/IP Port" as shown in the screen shot below. To do so, select "Create a new port:". Then select "Standard TCP/IP Port" from the pull-down menu. Click "Next" to continue.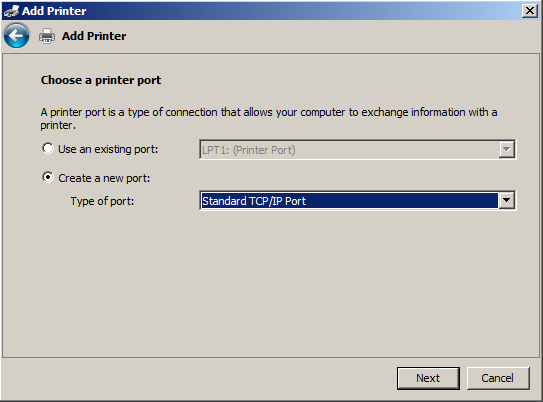 In the next screen, Windows Vista needs to know the IP address of your Brother MFC-7820N Network Printer. Type that in the first text field (see screen shot below). Windows Vista will automatically fill out the second field for you. Click on the "Next" button to continue.