Attach |
Edit |
Revisions

Related Content
Netgear Arlo Review: Software Features
As mentioned before, there are very little controls on the hardware. The base station and cameras only provide sync buttons. Everything else is controlled via the web interface or the mobile apps.
Real-Time Video Stream
The Arlo interface allows you to stream any camera in real-time. So you can imagine yourself sitting in front of a security monitor. However, Arlo's video stream is about as real-time as a cross continent conference call. My observation shows a 3 second delay, which I attribute to the video going to the Netgear server and back.
I haven't experienced this delay in a life and death situation, so I am not sure how this delay will affect our lifes. But just be aware that what you see in real-time has already ocurred 3 seconds ago.
Positioning the cameras take a lot longer due to this delay. And you will have to reposition the cameras every time you replace the batteries. The instruction manual says that "Position mode streams video as fast as possible, without buffering, so that you can aim the camera while watching on a smartphone and make near real-time adjustments to the camera position. This means that you might see lower quality video while in Position mode." But in my experience, the position mode actually streams slower than the live stream. In live stream, the delay is about 3 seconds. In position mode, the delay can be 10 seconds. In fact, I have had two instances where the app tells me it is "buffering" while in position mode. Maybe it is buggy software.
By the way, you'll definitely want to use the app on a tablet or a SmartPhone while positioning the camera. I don't know how security folks do it with old fashion surveillance cameras that are not Internet connected. But it is very nice to be able to see the update on the tablet as I move the camera.
Camera Status
You can use the software to get status on the individual cameras. You can see the quality of the wireless connection. On my property that is about 150 feet on the long side, the wireless signal is good to excellent. You can check the battery. When the battery status is low, you can get ready to replace or recharge the batteries. The Netgear server can also provide low battery notification, which is on by default (see screen shot below).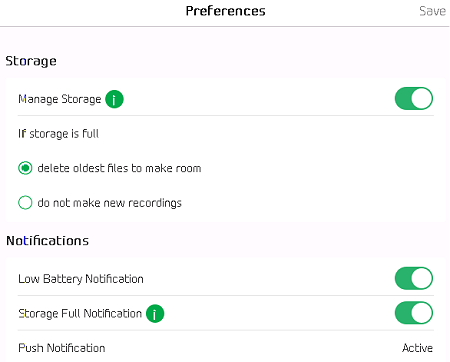 You can also see the number of video clips that each camera has recorded. When you tap that number, it takes you to the video library and automatically applies the filter for only that camera.
Video Library
The Arlo software interface has a "Library" tab. When you click on it, it presents you the recorded videos. You can click on a date in the calendar and it will show you all the video recorded on that day. You can favorite, share, download, and delete a video.
Downloading Videos
Being able to download videos is an important feature of a home surveillance system. When things goes bad, you want to save a copy to present as evidence. Arlo's web interface allows you to download the MP4 videos one at a time. You can also select multiple videos to download. But each video download separately. That means for each video you select to download, you are going to see one of these dialogs: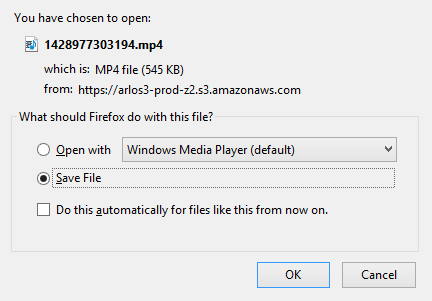 The first time I tried to download multiple videos I got forty something dialogs on the screen. After clicking "OK" and "Save" buttons that many times, I decided to write an Autohotkey script to automate that process.
Notice that video files are stored on Amazon AWS servers. The file names are big numbers. Turns out that the file name is the system time stamp in milliseconds since epoch. That's a lot of computer jargon in one sentence. Basically, the file name is the time stamp, but not in human readable form.
The first night, I tried to download the videos recorded during bench testing, involving my kids. Three fourth of the time, it downloaded a MP4 file that is not playable. But if I downloaded it again, it was fine. I noticed this problem after downloading a whole folder of videos only to find out that most of them are not playable. The following screen shot showed folders containing playable files and non-playable files.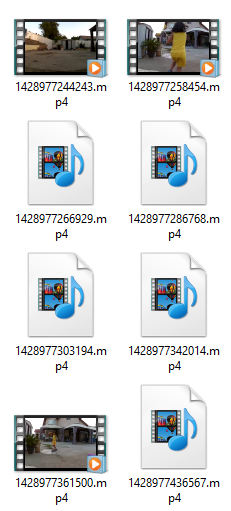 It seems to be a bug where if you are in the middle of playing the file and you download it, then the file is going to be corrupted. But if you download before you start playing the video or if you download after playing the entire video, the downloaded file will be fine. So now I make sure I am not playing the video when I download it.
I configured my Arlo cameras to capture 30 seconds long videos. I sat the cameras to capture "Best Video". Each 30 seconds video translated to just a little over 2.5 MB in size.
Video Quality / Power Management
The Arlo software interface allows you to invert the image that you capture. That way you can invert your camera upside down and still get a right side up video. However, I wish it also allows you to rotate your image 90 degrees. One of my camera is mounted sideways, meaning I have to view them with a tilted head.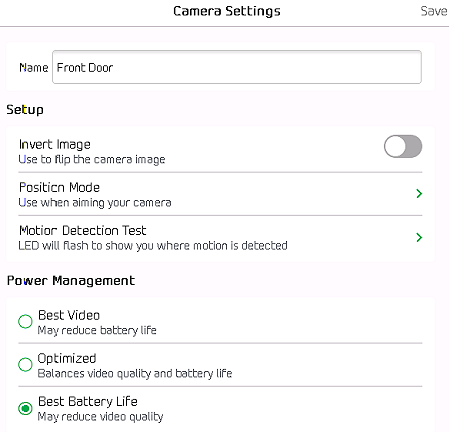 Arlo allows you to capture video in three different modes: Best Video, Optimized, and Best Battery Life. I'm rather surprised that the video quality changes battery life. I guess the video processing occurs on the cameras itself; low quality videos transfer faster to the base station.
The software interface does not indicate with any change in storage space when changing image quality. My experience shows that using higher video quality does reduce storage space.
Pan & Zoom
The software interface provides the ability to pan and zoom each of the Arlo cameras. I have not played with this feature because I prefer full video shots.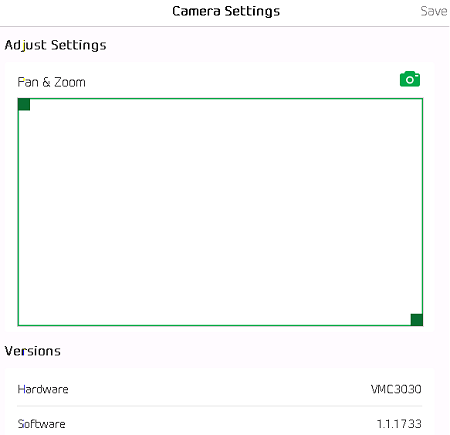 Scheduling
Arlo provides the scheduling feature as part of the "Premier" and the "Elite" subscription service. "Basic" service has this feature for 30 days. It is on by default, which is probably Netgear's way of enticing you.
It is confusing at first that my cameras are not recording. Then I realize scheduling is on. For a home user, I want to monitor my home 24/7. There is no reason to disable the video recording for certain times in the day. So I have turned it off right away.
Desktop Web Interface
Once your Arlo system is running, you can access it through your web browser. I have tried it with Mozilla Firefox and it works fine. The web interface feels very similar to the Android app version, so I have no problem moving from one to another.
Android App on Tablet
The Arlo Android app works flawlessly on our Lenovo IdeaTab S6000 tablet running Android 4.2.2. However, on our Motorola XOOM (Android 4.1.2), it crashes every time I try to play a video or watch live stream. Both tablets are on WiFi.
Android App on SmartPhone
The Arlo Android app runs well on my LG Google Nexus 5 (Android 5.1). I say well, not excellent, because of two reasons...
One, the larger screen real estate on the tablet makes the experience more enjoyable. The SmartPhone version can do everything the tablet version could do. You just have to move through more screen pages. And you can see more with a glance on the tablet. That's generally an obvious comparison between a tablet and a SmartPhone. But in the Arlo case, the app is designed very well to take advantage of the tablet's display space.
Two, the SmartPhone version of the video library seems bugged; I can't seem to see videos from all cameras no matter how I adjust the filter settings. And if I don't apply any filters, I don't see any videos at all. I can't put my finger on the bug. I don't have these problems when I use the app on the tablets.
My Android SmartPhone is connected to the LTE mobile network. I can watch video clip recording without the video stopping or slowing down.
Related Links
Attach |
Edit |
Revisions

Related Content