Add Comment |

Related Links |

TrackBack


Related Content
Shutdown through remote desktop?
I have one Windows XP computer that I use remotely through Remote Desktop. I found that there is a command-line commaand called "shutdown" that can help me turn off the computer remotely. But when I run it, it shuts down Windows XP and turns off the hard disk, but it doesn't actually turn off the computer. Any one know a way to have it turn off the computer too?
Mel
Sun, 23 Oct 2005 23:27:12 -0700
This is the picture of the screen when the computer shuts down. But the computer doesn't turn off. Anyone have any ideas?
Attached Image: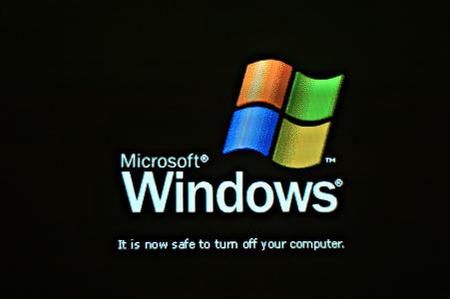 It is now safe to turn off your computer..jpg
Mel
Tue, 1 Nov 2005 12:54:02 -0800
I just sat up Remote Desktop on my notebook computer and tried the "shutdown -s" command. Seemed to work fine on my notebook. It turned off without any problem.
Chieh Cheng
Tue, 22 Jan 2008 08:51:25 +0000
So far, I tried "shutdown -s" from the command-line on three notebooks and they all work.
I've just tried to put that "shutdown -s" command into a batch file so that I can double-click on it to shutdown the computers remotely. But it didn't work. When I double-click on the file, it just repeatly calls "shutdown -s" with no end. Don't know why . . .
Chieh Cheng
Wed, 23 Jan 2008 09:53:12 +0000
Ok, the batch file doesn't work, but I figured out that I can use a Windows Shortcut instead. The Shortcut shuts down the system with the "shutdown -s" command. So now you can perform the shutdown remotely just like you can with local shutdown. The Windows Shutdown Shortcut is attached below.
Chieh Cheng
Wed, 23 Jan 2008 10:08:11 +0000
If you click on the attachment above (in Windows), it is likely you will get an error; at least it does for me in Mozilla Firefox on Windows XP. Apparently Windows does some strange redirection with Shortcuts (files with .lnk extension). Instead, you should right-click on it and choose "Save Link As..." to download the Shortcut.
Chieh Cheng
Thu, 24 Jan 2008 02:17:42 +0000
I just found out that you can shut down the computer through the Windows Task Manager (see screen shot below). It works quite fast, compared to the shortcut I made. You can use it to restart the computer as well. My only question is what does "Eject Computer" do? Hopefully, it doesn't send your computer flying out of the window.
Chieh Cheng
Wed, 30 Jan 2008 08:29:36 +0000
The shutdown feature seems to have disappeared from the Task Manager in Vista. But the Shutdown.lnk that I've attached above works beautifully.
Chieh Cheng
Fri, 29 Feb 2008 10:06:55 +0000
Keep in mind that when you shutdown in this manner, it doesn't trigger Windows to install any updates that it has downloaded. That's ok if you switch between accessing the computer remotely and locally. But if you only access your computer remotely, you'll have to manually install the updates periodically by click on the yellow shield (Automatic Update) on the task bar.
Chieh Cheng
Mon, 14 Apr 2008 21:56:58 +0000
"eject computer" wtf????? how the hell? what!?
Dylan
Fri, 30 May 2008 23:02:51 +0000
to whoever said the shutdown -s from the shortcut is slow if you use
shutdown -s -t 00
it will go just as quick
there is by default a 30 second delay using shutdown -s, if you add - t 00 the delay will be 0 seconds.
also, if you disconnect and want to shut down the pc without reconnect to remote desktop you can use -m to shutdown a remote computer
ex.
shutdown -s -t 00 -m \\computername
Patrick
Fri, 12 Jun 2009 19:12:45 +0000
Thanks for the tip, Patrick! That's going to come in handy.
Chieh Cheng
Sun, 14 Jun 2009 06:29:49 +0000
Just use CTRL+ALT+END to get to the shutdown menu
DiggaDan
Thu, 30 Jul 2009 09:24:21 +0000
Windows 7 no longer has the "Shut Down" pull-down menu on Task Manager. You'll have to use the shutdown command or the CTRL+ALT+END method.
Chieh Cheng
Mon, 22 Mar 2010 00:38:42 +0000
Adding a reboot Windows shortcut as well. The Shortcut shuts down and reboots the system with the "shutdown -r" command. The Windows Reboot Shortcut is attached below.
Chieh Cheng
Mon, 24 Sep 2012 13:16:01 +0400
Thanks for the shutdown and reboot links. Now that Windows 8 hides these functions behind lots of mouse navigation and clicks, these links on the desktop are really handy.
QS
Fri, 12 Apr 2013 11:28:12 +0400

Add Comment |

Related Links |

TrackBack


Related Content
Did your message disappear? Read the Forums FAQ.
TrackBack only accepted from WebSite-X Suite web sites. Do not submit TrackBacks from other sites.
Send Ping | TrackBack URL | Spam Control
Title: Sony VAIO PCG-748 Won't Turn Off After Windows Shutdown - The Solution
Weblog: GearHack
Excerpt: My Sony VAIO PCG-748 notebook has been running happily with Microsoft Windows XP for quite a few months now. It's quite peppy for a 266 MHz computer. The only gripe I have with it is that whenever I shut it down, it ends up at the following "It is now safe to turn off your computer" screen, but the . . .
Tracked: Thu, 24 Jan 2008 02:13:50 +0000
Title: Task Manager Shortcut
Weblog: GearHack
Excerpt: Attached below is the Task Manager shortcut. You can download it and place it on your desktop to access Task Manager quickly. It is especially helpful if your computer is under heavy load and you can't get to the Taskbar. Or if you are using Remote Desktop and you can't get the Taskbar to pop back u . . .
Tracked: Mon, 11 Jan 2010 07:18:59 +0000
Spam Control | * indicates required field
Messages, files, and images copyright by respective owners.