Add Comment |
Related Links |
TrackBack

Related Content
Clash Royale: Need Gold?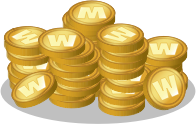 When you first start playing Clash Royale, gold coins seems plentiful. You can upgrade your troops for 5 gold pieces, etc. But as you get better and better cards, gold becomes scarce. Here are some way to increase your gold income when you are just a few gold pieces away from your next upgrade:
1) Donate cards. Every card you donate to your clan members give you gold pieces. Donating common cards to your team mates is a great way to earn some gold. Because the card is common any way, even if you donate common cards that you need, you'll likely get them back in the future. Plus, you can always ask other clan members to donate them back to you later.
You need to be level 3 to join a clan. If you are not level 3 yet, see our "Clash Royale: Get to Level 3 Fast" strategy.
2) Opening chests. You get the most amount of gold by opening chests. By unlocking your chests as quickly as possible, you can maximizing gold income. Follow our "Clash Royale: Unlock Chest Strategy" to maximize your gold income.
3) Buy gold with gems. In the Clash Royale Shop (first tab on the bottom of the screen), you can trade gems for gold. Currently, there are three options: 1) Pouch of Gold - 1000 gold pieces for 60 gems; 2) Bucket of Gold - 10000 gold pieces for 500 gems; and 3) Wagon of Gold - 100000 gold pieces for 4500 gems.
In the "How to Spend Gems in Clash Royale" article, the author suggest that you buy the Bucket of Gold, saving 100 gems over Pouch of Gold.
4) Buy gold with real money. You can always buy gold with real money, but I don't condone this route. Because taking this route basically eliminate any strategy to progression. And it defeats the purpose of this post and any progression strategy articles on this site and any other sites. But I put this option in for completeness.
Fido
Sun, 06 Mar 2016 01:21:43 +0300
Add Comment |
Related Links |
TrackBack

Related Content
Did your message disappear? Read the Forums FAQ.
Spam Control | * indicates required field
TrackBack only accepted from WebSite-X Suite web sites. Do not submit TrackBacks from other sites.
Send Ping | TrackBack URL | Spam Control
No TrackBacks yet. TrackBack can be used to link this thread to your weblog, or link your weblog to this thread. In addition, TrackBack can be used as a form of remote commenting. Rather than posting the comment directly on this thread, you can posts it on your own weblog. Then have your weblog sends a TrackBack ping to the TrackBack URL, so that your post would show up here.
Messages, files, and images copyright by respective owners.