Add Comment |

Related Links |

TrackBack


Related Content
Pouch for Motorola Triumph
Need a pouch for the Motorola Triumph. Anyone know a good pouch for it?
Chieh Cheng
Wed, 20 Jul 2011 08:14:53 +0000
I finally found a pouch for my Motorola Triumph:
Ultra Slim Pocket Slip Case Pouch for Samsung Galaxy S2 SII i9100, Attain, Function, Within, & Epic Touch 4G
It's marketed for the Samsung Epic 4G, which my wife happens to have. It's about the same size as the Motorola Triumph, but much thicker. I figured if the pouch can hold the Samsung Epic 4G, then it's a good candidate for the Motorola Triumph.
After getting it, and using it for two weeks, I can say it is the best pouch for the Motorola Triumph, so far.
But it's not without any growing pains. First of all, this pouch will never be able to hold a Samsung Epic 4G. It is extremely tight for even the Motorola Triumph. I can insert the Motorola Triumph, but had a difficult time sliding it out. I tried the Samsung Epic 4G in it. It got stuck halfway, it took me minutes to get it out again. But the extra thickness of the Samsung Epic 4G loosened the pouch a bit, which made it perfect for the Motorola Triumph.
If you get this pouch, it will work beautifully after the Motorola Triumph has gone in and out of it a few times. But expect a small struggle from the start.
Chieh Cheng
Wed, 24 Aug 2011 04:35:56 +0000
I tried this case for my triumph. Much too tight and don't think the case will stretch. It doesn't appear to be leather. I think you will waste your money on this one.
Steve shaff
Mon, 13 Feb 2012 01:39:09 +0300
What the pouch looks like: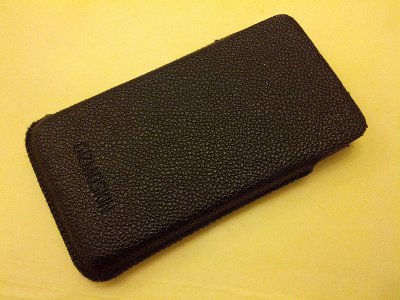 Chieh Cheng
Thu, 17 May 2012 01:00:02 +0400

Add Comment |

Related Links |

TrackBack


Related Content
Did your message disappear? Read the Forums FAQ.
Spam Control | * indicates required field
TrackBack only accepted from WebSite-X Suite web sites. Do not submit TrackBacks from other sites.
Send Ping | TrackBack URL | Spam Control
No TrackBacks yet. TrackBack can be used to link this thread to your weblog, or link your weblog to this thread. In addition, TrackBack can be used as a form of remote commenting. Rather than posting the comment directly on this thread, you can posts it on your own weblog. Then have your weblog sends a TrackBack ping to the TrackBack URL, so that your post would show up here.
Messages, files, and images copyright by respective owners.