Add Comment |
Related Links |
TrackBack

Related Content
Samsung SPH-A900M Data and Charging Port Pins
The following photo shows the data and the charging port on the Samsung SPH-A900M camera phone. The port is the same as the port on the Samsung MM-A940 camera phone.
Chieh Cheng
Fri, 02 Mar 2007 23:14:35 -0800
Samsung TAD137JBE Travel Adapter
Input: 100-240VAC 50-60Hz 0.15A
Output: 5.0V 0.7A
The following photo shows the pins for the charging cable. The pins are number 1 to 18 from the left. The two pins on the right are pins 17 and 18.
Chieh Cheng
Fri, 02 Mar 2007 23:24:36 -0800
The following photograph shows the Samsung PCB113BBE Data Link Cable pins. The left three pins are pin 1, 2, and 3. Unfortunately, this cable does not have the two power pins on the right, so it cannot serve as a charging cable.
Chieh Cheng
Fri, 02 Mar 2007 23:28:34 -0800
I wanted a Samsung A900M USB data cable that has charging capability. After all, I want to be able to surf the Internet all day in a coffee shop. I don't know if any of the USB data cable has charging capability, so I took a chance. I bought the USB SYNC DATA CABLE + CD DRIVER for SAMSUNG A930 / A870 / A645 / A960 / A990 / M500 / A850 / A950 / A970 (see photo below) from Accessory Export, LLC through Amazon.
Although this USB data cable is meant for the phones listed above, not for the A900M, I found that the cable for the A900M is the same. I am happily using this cable with my phone. This cable does have all seven pins on it. It does have USB charging capability. So now I can charge the phone and surf at the same time!
Attached Image: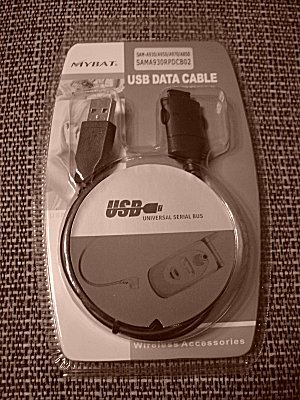 USB Data Cable for A930, A950, A970, and A850.jpg
Chieh Cheng
Sun, 15 Apr 2007 11:28:37 -0700
Note! Just bought another one from the same link above. Instead of buying from Accessory Export, LLC, I bought it from BargainCell. The BargainCell version does not come with the MyBat packaging show above, and is not a MyBat product. The BargainCell version also does not have charging capability.
Chieh Cheng
Tue, 02 Sep 2008 17:37:43 +0000
Thank you! I have been wanting the same function out of my phone. I am always happy to run across someone's site that actually contains USEFUL information!
Tim
Fri, 17 Oct 2008 15:15:13 +0000
The following photo shows the wired connection inside the data charging cable connector.
Chieh Cheng
Wed, 10 Jun 2009 22:18:20 +0000
Add Comment |
Related Links |
TrackBack

Related Content
Did your message disappear? Read the Forums FAQ.
Spam Control | * indicates required field
TrackBack only accepted from WebSite-X Suite web sites. Do not submit TrackBacks from other sites.
Send Ping | TrackBack URL | Spam Control
No TrackBacks yet. TrackBack can be used to link this thread to your weblog, or link your weblog to this thread. In addition, TrackBack can be used as a form of remote commenting. Rather than posting the comment directly on this thread, you can posts it on your own weblog. Then have your weblog sends a TrackBack ping to the TrackBack URL, so that your post would show up here.
Messages, files, and images copyright by respective owners.