Add Comment |
Related Links |
TrackBack

Related Content
Wake Me Up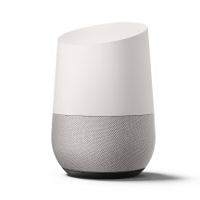 Taking a nap, I needed to wake up at 6 PM. As I reached over to my phone to set the alarm, I thought, "Can Google Home wake me up at any time I specify?"
"Ok, Google. Wake me up at 6 PM."
Immediately, Google Home responded with "Got it. Your alarm's set for 6 PM."
At 6 PM, Google Home lit up in a flashing circular pattern and repeated a short melody.
When I said, "Ok Google. I got it," it responded with some medical definition and continued to play the alarm. It only turned off the alarm when I said, "Ok Google. I'm awake."
Jake
Fri, 06 Jan 2017 03:50:52 +0300
And if you let the alarm go on and on, Google Home automatically silence it after ten minutes. I wonder if it is possible to change the alarm duration.
Talking about configuring things... it would be cool if you can change the melody, play a song, or gives you a voice wake up call.
Jake
Fri, 06 Jan 2017 05:12:45 +0300
Add Comment |
Related Links |
TrackBack

Related Content
Did your message disappear? Read the Forums FAQ.
Spam Control | * indicates required field
TrackBack only accepted from WebSite-X Suite web sites. Do not submit TrackBacks from other sites.
Send Ping | TrackBack URL | Spam Control
No TrackBacks yet. TrackBack can be used to link this thread to your weblog, or link your weblog to this thread. In addition, TrackBack can be used as a form of remote commenting. Rather than posting the comment directly on this thread, you can posts it on your own weblog. Then have your weblog sends a TrackBack ping to the TrackBack URL, so that your post would show up here.
Messages, files, and images copyright by respective owners.