Attach |
Edit |
Revisions

Related Content
Netgear Arlo Review: Cloud Storage Service
Netgear Arlo is designed around Netgear's cloud recording service. That means all the video clips goes out to Netgear Arlo server before it comes back to you. That translates to remote off-site storage right off the bat, so you don't have to move any data off site yourself. And you don't have to maintain on-site recording equipment. This feature guards against criminal who tries to destroy on-site evidence and arson that could destroy on-site recording.
However, it means you are stuck with Netgear's Arlo cloud service without any other choice. Netgear provide three service levels. Fortunately, its "Basic" service is free. The "Basic" service includes 1 GB of cloud storage, recording of 5 cameras, 1 base station, motion detection alerts, smart mode and rules, download and share video clips, and access from iOS, Android, and desktop. Arlo's web site claims the 1 GB of cloud storage is sufficient for 7 days of recording. I suspect that's enough for most home users. If your home is robbed and you can't get to your remote video storage to download the evidence within 7 days, then you probably need to pay for a higher level service. You can see how much storage you have left from the "Subscription" page (see screen shot below).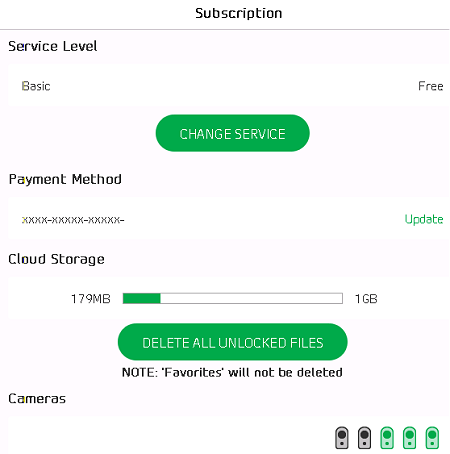 After using the Arlo system for a week, I realized that Netgear's seven days of recording was literal. That meant you only get seven days of storage with the basic service, even if you come no where close to the 1GB limit. I had set the sensitivity low so that I can capture more videos over a longer period. But when a week is up, Netgear deleted all the videos that is eight days old.
Knowing that, you will want to balance the video length and video quality so that the cameras capture close to the 1GB limit. But you want to keep the sensitivity in check so that you don't get false notifications all the time and having to review pointless videos.
When the storage is full, Netgear server can send you notification (see screen shot below). You can tell the Netgear server to automatically "delete oldest files to make room", which is useful when you use it as a security camera system 24/7.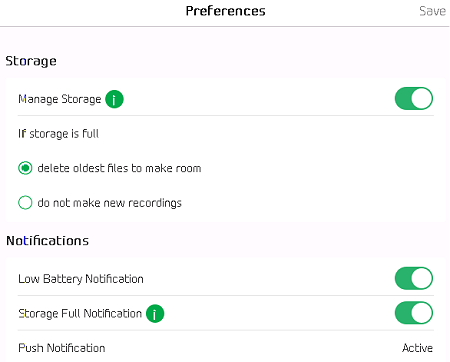 To get more storage, recording from more cameras, and connecting more base stations, you'll need its "Premier" or "Elite" service. "Premium" service provides 10 GB of cloud storage and recording from 10 cameras. Currently, "Premium" service costs $9.99 per month or $99 per year. "Elite" service provides 100 GB of cloud storage, recording from 15 cameras, and connection from 3 base stations. Currently, "Elite" service costs $14.99 per month or $149 per year. Both "Premier" and "Elite" services also provide scheduler and camera sharing.
Another drawback to the remote storage service is that you are at the mercy of Netgear maintaining the service and your Internet provider keeping its server running. Much like your Internet service going down, Netgear's recording servers could go down. In fact, I have read several reviews of such occurrence.
But the biggest question is what would you do if Netgear ever cancels its Arlo online servers? Does that mean the Arlo security system will become useless?
Related Links
Attach |
Edit |
Revisions

Related Content