Attach |
Edit |
Revisions

Related Content
Spencer's Spirit Halloween Fog Machine FX-A Review
Cross-Reference
Spencer's Spirit Halloween no longer sells the FX-A fog machine. However, it sells the timer control, reviewed in this article, individually. See the "Spencer's Spirit Halloween 400 Watt Fog Machine Review" article for a review of the current fog machine Spenser Gifts carries.
Timer Control
The FX-A fog machine comes with a wired timer remote control. It is made out of high quality ABS plastic with three button, two knobs, and a long wire as shown in the photo below. The wire has a female three-prong connector that you'd find on desktop computers. On the back is a big magnetic pad, so that you can stick the timer control on a metal surface.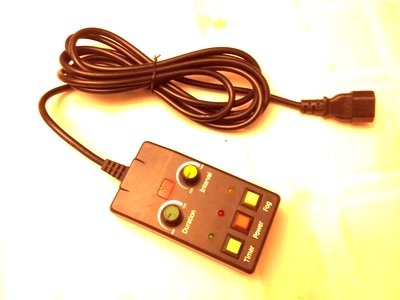 This high quality control interface is basically the brain of the FX-A fog machine. Using this controller, you can turn on the power to the fog machine. You can manually spray fog when the machine has heated up (the light on top of the fog button will turn on). You can enable timer functionality to have it automatically spray fog. Two knobs allows you to adjust the timer function. They allow you to change duration of the fog spray and the interval at which the fog machine sprays.
The cable is standard fog machine interface, so you can use it with any fog machines that uses the same interface. This controller is really a gem, because Spencer's Gifts and Spirit Halloween now sells this timer controller separately from its low end fog machines for an additional ~$20.
Related Links
Attach |
Edit |
Revisions

Related Content
Attachments