Attach |
Edit |
Revisions

Related Content
Netgear Arlo Review: Base Station
The Arlo cameras do not operate stand-alone. They require wireless attachment to the Netgear Arlo Base Station VMB3000. The reasoning is that the camera batteries will only last two days if connected directly to WiFi. Instead, the cameras synchronize with the base station using an ultra low power method.
There are five LED's on the front of the base station. Each of them lights up green when operating correctly. The first LED is the power indicator. Second LED is the Internet indicator. The third LED shows wireless cameras are connected. The fourth LED is the "Smart Home" indicator. The fifth LED is the USB indicator. The instruction manual doesn't explain the "Smart Home" nor the USB indicators.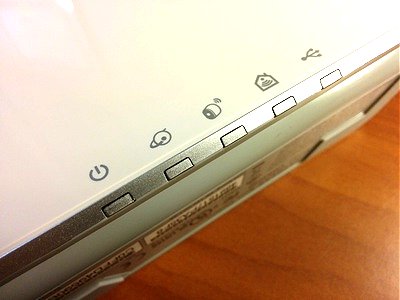 Unlike the cameras, the Arlo Base Station and its network and power connectivity do not operate on a wireless principle. Its network connection uses standard Ethernet cable, rather than WiFi. It has a AC power adapter that needs to be plugged into a wall socket. That means the base station has to be place relatively close to the router or network switch and a power outlet.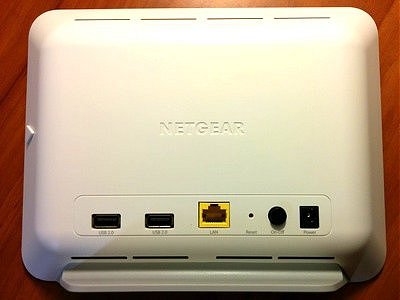 Other than the network port, the base station has several other connectivity ports on its back (see photo above). There is a triangle sync button on the left side, two USB ports, a reset hole, the power button, and the power port. It's unclear what the USB ports are going to be used for.
Wishful Thinking
It would be nice if you can connect USB hard drives to the base station for network access. Or better yet, record video directly to the hard drives.
The base station operations pretty much in the background. Other than taking up physical space and synchronizing with cameras, you don't really need to interface with it. The base station stands up right, saving you some physical space. But it'd be nicer if Netgear made it hangable and have the wires come out of the bottom or the sides.
Power Adapter
The base station power adapter is two prong. Therefore, it's easy to find an AC outlet for it. And it's angled side ways so that it won't cover the next outlet on a power strip.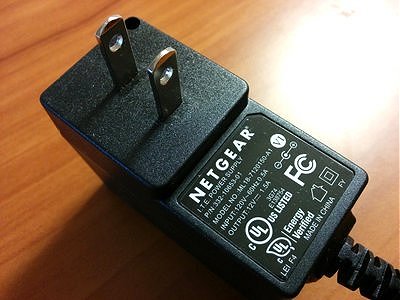 The following is the specs for the power supply:
P/N: 332-10653-01
Model No: ML18-7120150-A1
Input: 120V ~ 60 Hz 0.5A
Output: 12 V 1.5A
Positive center on the connector.

Time Zone
The only thing you can configure on the base station is the time zone. The configuration option is in the software interface. Once you set the time zone, the base station will automatically get the current time through the Internet and time stamp recorded videos using the current time.
Related Links
Attach |
Edit |
Revisions

Related Content